Call for help with £400m flooding repair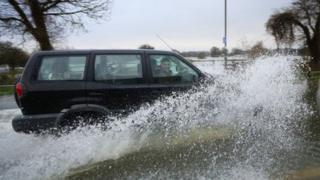 The government is being urged to help English and Welsh councils, who warn that they face a £400m repair bill for damage caused by storms and flooding.
The Local Government Association said the storms and floods left behind "a daunting trail of destruction".
It has asked the Department for Transport to create a highways maintenance emergency fund.
The government say it will provide £7m extra aid to local authorities to repair homes and roads.
This is in addition to the money councils get under the existing Bellwin Scheme for storm and flood damage.
A similar fund was created following severe flooding in 2007, designed to help affected local authorities with capital funding for emergency and unforeseeable capital works to their local roads network.
'Costly damage'
The provisional £400m figure comes from a survey of highway managers in England and Wales - with a final total due by April which is expected to be significantly higher.
The worst-affected councils - including Pembrokeshire, North Norfolk, Surrey and Hampshire - have each sustained millions of pounds worth of damage.
A spokesman for Scottish local government organisation Cosla said it had not requested extra funds but was monitoring the situation and in ongoing talks about flooding with central government.
The LGA's environment and housing board chairman, Mike Jones, said: "The severe weather has left behind a daunting trail of destruction for councils to clear up and fix.
"We were already facing a £10.5bn repair backlog to bring our highways up to scratch and the damage to our roads by this recent flooding will be considerable and costly."
He added: "An emergency highways maintenance fund would provide essential support to those councils who now face hefty and unexpected repair bills as a result of the flooding.
"These bills are likely to place significant financial pressures on already stretched council finances and it is vital that local communities are not left to suffer as a result."
Flood Recovery Minister Brandon Lewis said the government was fully focussed on helping those affected get back on their feet.
"The Department of Transport is providing over £3.4bn in this Parliament and over £5.8bn in the next for local highways maintenance.
"It is the responsibility of authorities to manage their highway assets and to ensure that they have appropriate contingencies in place to deal with any severe weather that may occur from time to time.
"We are now looking at other ways to provide further support to affected areas and expect to announce this shortly."
Commenting on the LGA's call for an emergency maintenance fund, RAC technical director David Bizley said: "We should not be playing verbal ping-pong between local and central government over an issue as important as this as the money simply must be found for these essential repairs.
"Emergency funding should be made available, in circumstances like those that have arisen from the recent flooding, to repair damage caused by extreme events."