For peat's sake use other composts, RHS urges gardeners
By Andrew Bomford
BBC Radio 4's PM programme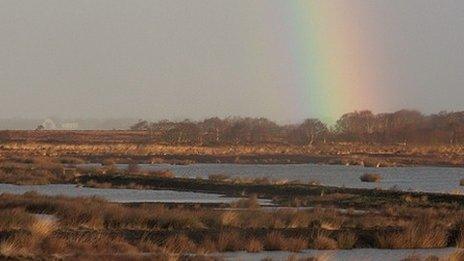 Britain's gardeners are still using too much peat compost, according to the Royal Horticultural Society (RHS).
More than half of the compost sold in the UK contains peat.
This is harmful because it leads to further depletion of peat bogs in countries such as Ireland and the Baltic states, which supply most of our peat, says the RHS.
It suggests using alternatives such as coir, made from coconut shells, and green waste from household recycling.
Dr Paul Alexander from the RHS said: "We share the environmental concerns about peat use - its value as a carbon store and the habitat damage - and we think most gardeners would prefer to grow plants without doing environmental damage.
"We think there are peat-free and peat-reduced mixes out there which gardeners can use with success."
Peat bogs are an important environmental resource and create areas of huge biodiversity, keeping more carbon dioxide out of the atmosphere than forests, and helping to prevent flooding, according to Natural England.
As a further spur to gardeners, the RHS and the Department for Environment, Food and Rural Affairs (Defra) is making £50,000 available to Britain in Bloom groups to buy alternatives.
Millions of cubic metres of peat are imported into Britain each year. Peat is still produced in the UK, but in ever smaller quantities, as government money is used to buy up the mineral rights of peat producers in order to reduce the impact on Britain's peat bogs.
Most bags of compost sold at garden centres contain up to 70% peat, even though manufacturers have been under pressure from the government to reduce their peat content. The problem is that for gardeners, peat is good at its job.
"It's light, it's cheap, and it holds water very well," says Dr Alexander from the RHS.
"For many gardeners it's the answer to their problems. The problem for the industry has been finding material that covers all the bases that peat does, and that is proving a challenge."
The quality of the alternatives is variable. They are also more expensive than peat, and studies show that for most gardeners price is a major issue.
But the RHS says alternatives are improving, and it is trying to lead the way by reducing its own peat usage to less than 1% of the compost it consumes.
The RHS is also calling on manufacturers to label their compost bags more clearly, because many are vague about peat content, making it difficult for consumers to make informed choices.
Britain has lost 95% of its peat bogs, and the struggle is now on to preserve what is left at locations such as Wedholme Flow in Cumbria, an area of just-surviving bog and part of a Site of Special Scientific Interest (SSSI) which was previously excavated for peat.
Work stopped about 10 years ago, yet areas where the peat was extracted still look as black and dead as the day the machinery left. Very little grows there without extensive restoration work.
"It's an incredibly harsh environment," says Alasdair Brock of Natural England.
"In winter you get frost-heave and in summer it's a bit like Melbourne at the moment. You can get temperatures of up to 40°C or 45°C on the ground. So if you are a plant trying to get going, it doesn't work."
Natural England has been working to recolonise the bog at Wedholme Flow and other peat bogs by blocking up the drainage ditches dug when it was being worked and reintroducing the sphagnum mosses and other plants that gradually build up the natural dome shape of a healthy peat bog.
It is a long-term task; the mosses grow at a rate of 1mm a year.
It took around 10,000 years to create the peat bog, following the last ice age, but only 40 years to almost destroy it.
Listen to Andrew Bomford's full report on Friday, 17 January on BBC Radio 4's PM programme at 1700 GMT
Related Internet Links
The BBC is not responsible for the content of external sites.