Dave Lee Travis trial: Woman 'feared rape' at Showaddywaddy show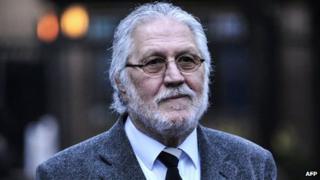 A woman feared she was going to be raped by DJ Dave Lee Travis when she was 15 at a Showaddywaddy concert, Southwark Crown Court court has heard.
In a videoed police interview, the woman said Mr Travis had invited her into his trailer, where he "lunged forward" and was "all over" her.
The incident in the late 70s had left her "petrified", the court heard.
Mr Travis, 68, whose real name is David Griffin, denies 13 counts of indecent assault and one of sexual assault.
Prosecutors allege he indecently assaulted 11 girls and women aged from 15 to 29 between 1976 and 2008.
As the interview was played to the court, Mr Travis sighed and shook his head repeatedly.
The woman, now middle-aged, said she and the DJ had been talking about music when he commented on the size of her breasts.
"I started feeling very awkward, then he started touching me," she said.
Mr Travis had "lunged forward", she said. "He started snogging my face off. He got his hand up my shirt and pulled my bra up.
"He was just all over my boobs. He was so heavy I was trapped in the seat. I could not get up. I thought he was going to rape me."
She went on: "I was crying, I was shouting at him to stop - then he did. I don't know whether he had a conscience.
"He stopped and told me I should get dressed. He realised he wasn't going to get anywhere with me."
The woman, who cannot be named for legal reasons, said she had run home after the incident and hid in her bed.
Having been "star-struck" by Mr Travis when she first met him, she said she now regarded him as "a disgusting old man - a pervert".
'Honest' account
Appearing in court, former Showaddywaddy lead singer Dave Bartram confirmed that he did remember the concert in Gloucestershire at which the alleged assault happened.
"I can actually recall it, simply because Dave came on stage with the band and proceeded to make a nuisance of himself.
"When Dave came on stage, I'm not sure if he was invited or uninvited, he got on one of the drum kits and proceeded to make a bit of a racket."
Earlier on Thursday, the trial's third day, a radio station worker said she had been "gutted and confused" after being groped by Mr Travis.
The woman, who was in her 20s and working at commercial station Chiltern Radio, said she had initially seen Mr Travis as a "friendly grandad-type" who had been "very nice to her".
Describing the alleged assault, she said: "He came in and came up behind me and hugged me from behind and blew a raspberry on my face.
"It was just a bit too close. But then his hand was on that bit of your tummy below your belly button.
"No-one ever touches you there, it is quite personal. When he did that I kind of went to shrug him off."
The witness said that as Mr Travis went to move his hands away, he did so "deliberately and brushed over my breast".
She also said she could remember another incident when a female colleague - who gave evidence on Wednesday - had shouted at Mr Travis after he allegedly put his hand up her skirt.
Wednesday's witness told the court she had "absolutely snapped" and a manager had had to pull them apart, with Mr Travis becoming very aggressive when she shouted that he was a pervert.
That witness told the court she and Thursday's witness were "close friends" who had pledged to support each other.
But Thursday's witness denied suggestions from Mr Travis's barrister, Stephen Vullo, that she had "merged" her police statement and account of the incident with that given by Wednesday's witness.
She said her account was "honest" and said she had not spoken to the other woman since the police case had started.
'Stay away'
Chiltern Radio employee Simon Cliffe told the court he was aware one of the alleged victims felt "uncomfortable" around Mr Travis, but said that he knew of only one formal complaint.
Asked by Mr Vullo whether the complaint was because his client had been "overly tactile", he said: "It was probably stronger than that. Maybe an invasion of privacy or an invasion of space."
Mr Travis's former managing director at Classic Gold, Colin Wilshire, said he was aware of a complaint about the DJ by a female member of staff.
Mr Wilshire told the court that a woman had complained that Mr Travis had "touched her on the leg... legs".
He said Mr Travis was told to "stay away" from the woman and her office, and a complaint was raised at a board meeting, but no "mark" was left on his HR file.
He added that Mr Travis had left Classic Gold following "artistic differences" over playlists and his shifts, and not due to the complaint.
Another witness, a student in Nottingham in the 1980s, said the DJ had assaulted her when he was booked to appear at a university function.
She said she was invited into his campervan when he arrived at the gig and was later asked to guard the vehicle, but while she was wearing a guard's badge that Mr Travis had "lifted it, touching my breast".
"I was embarrassed, a bit shocked," she said. "I recoiled."