Buckingham Palace knifeman jailed for 16 months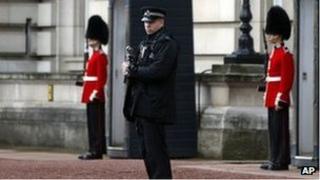 A man armed with a six-inch knife who was rugby tackled to the ground by police outside Buckingham Palace has been sentenced to 16 months in prison.
David Belmar, 44, from Haringey, north London, was sentenced at Southwark Crown Court for trespass and possession of a bladed article.
Belmar jumped a vehicle barrier on 14 October 2013 in an attempt to see the Queen.
The Queen was not in the palace at the time of the incident.
Belmar, who admitted the charges in October, was sentenced to 16 months for possession of the knife and 6 months to run concurrently for trespassing.
After police brought Belmar to the ground and searched him, they found a kitchen knife wrapped in a plastic bag in his jacket pocket.
The prosecution claimed that Belmar, who had mental health issues for which he is taking medication, had a fixation with the Queen and had received a caution in 1989 for lighting fireworks and throwing them into the grounds of Buckingham Palace.
At a hearing in October the judge said that Belmar was "a danger not just to himself but to others".
Belmar tried to enter the palace through the north centre gate, which is the one furthest to the right in the commonest view of the palace, looking from the Victoria Memorial.
It is the entrance to the palace that is in everyday use.