Judge Constance Briscoe 'helped friend Vicky Pryce'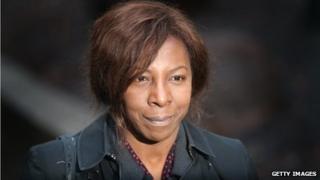 A part-time judge lied to police about her role in exposing how ex-cabinet minister Chris Huhne swapped speeding points, a court has heard.
Prosecutors at Southwark Crown Court said Constance Briscoe, 56, of Clapham, helped Vicky Pryce reveal her ex-husband's wrongdoing in the press, but hid her actions from police.
Ms Briscoe then mislead police again to cover up her dishonesty, they said.
She denies three counts of intending to pervert the course of justice.
Former Energy Secretary Mr Huhne was jailed in March along with his ex-wife Ms Pryce, after she took speeding points for him in 2003.
Both have since been released from prison.
Ms Briscoe, who is also a barrister, has been suspended since her arrest in October 2012.
The first charge faced by Ms Briscoe alleges that, between May 2011 and October 2012, she provided police with two inaccurate statements.
The second alleges that on 6 October 2012, she produced an altered copy of a statement, but claimed it was the correct version.
A third charge alleges that between 5 October 2012 and 8 October 2013 she provided a false document to an expert witness.
'Merely advised'
Opening the case on Wednesday, prosecutors said Ms Briscoe had helped her friend and neighbour Ms Pryce reveal information to the press about the points swap.
Bobbie Cheema QC, for the prosecution, told the jury Ms Briscoe had then tried to mislead the police and the court during an investigation into her actions.
In one statement to police, the court heard, Ms Briscoe denied having any contact with journalists or newspapers about the speeding story, and maintained she was not a close friend of Ms Pryce's but had merely advised her on her divorce.
However, emails obtained during the Huhne-Pryce trial showed she had advised Ms Pryce about a contract with the Sunday Times, and was involved in speaking to the Mail on Sunday about the story.
Most striking in the exchanges was Ms Briscoe's "apparent intent" to bring the then-cabinet minister down, Miss Cheema told the jury.
When Ms Briscoe was later interviewed by police following her arrest, she pointed out an alteration in her statement, claiming it changed the meaning, the court was told.
The prosecution alleged Ms Briscoe had intentionally made the alteration.
In June, the barrister was charged with two counts of intending to pervert the course of justice, relating to lying to police, and then to altering her witness statement.
'Prepared to lie'
As preparations for her own trial were under way, the court heard that Ms Briscoe's solicitors obtained a report from an expert witness who said the alteration in the statement had actually been caused by a malfunctioning printer.
However, it is alleged that Ms Briscoe had deliberately handed the expert the wrong document to look at so she could get evidence in her favour.
Miss Cheema told the court: "There is no law of course that prevents Miss Briscoe assisting her friend to do damage to her husband if that's what she chose to do.
"But the criminal offences she is charged with all arise not out of that but out of what the prosecution say is Ms Briscoe acting deliberately: a) to hide what she was really up to when the police asked her about it; b) giving the police misleading information and; c) later on trying to manipulate both the police and the court during an investigation into Ms Briscoe's own actions."
Ms Briscoe was "someone who knows the criminal justice system extremely well", she added.
"It seems from the evidence you will be asked to consider that despite all her advantages, for reasons of her own, she was prepared to lie to the police, present an entirely false picture about herself, her relationship with Ms Pryce and her relationship with journalists."
The trial continues.