Phone-hacking trial: Prosecution expert admits mistakes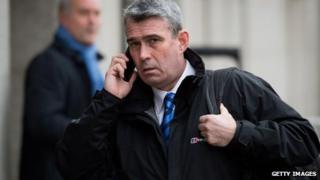 A police forensic expert has admitted making mistakes in evidence he gave to the phone-hacking trial.
David Cutts conceded he had given wrong details about the location of a mobile belonging to Mark Hanna, former head of security for News International.
Mr Hanna, NI's ex-chief Rebekah Brooks and her husband Charlie deny conspiring to pervert the course of justice.
They are alleged to have tried to hide items from police probing claims of phone hacking at the News of the World.
CCTV showing Mr Brooks and security staff allegedly trying to hide computers and documents from police has been shown to the Old Bailey.
'Fundamental muddle'
On Wednesday, the jury also heard evidence from Mr Cutts about the whereabouts of mobile phones used by the three defendants over the weekend of 16 and 17 July 2011.
Mr Cutts, who works for the Metropolitan Police, is an expert in mobile phone cell site analysis - linking mobile phones to a specific location through details recorded by telecommunication companies' at their transmission mast sites.
Cross examined by the Mr Hanna's lawyer, William Clegg QC, Mr Cutts admitted he had made three mistakes in testimony he had given about Mr Hanna's mobile.
He had mistakenly said the mobile was close to Mrs Brooks country home, Jubilee Barn in Oxfordshire, on two occasions when it was not.
He also told the jury that one call from the phone was "not in the vicinity of Jubilee Farm" when, in fact, it was.
At one point, when Mr Cutts was asked by Mr Clegg if he had made mistakes in his testimony, the judge intervened telling him, "Just say yes".
Mr Hanna's barrister described the mistakes as a "fairly fundamental muddle".
At the end of his evidence, the judge, Mr Justice Saunders addressed Mr Cutts, saying "you've been given a hard time in the witness box today... you've accepted making mistakes and they are serious ones".
The judge added: "You have failed to give a satisfactory explanation for the mistakes."
Mrs Brooks, 45, of Churchill, Oxfordshire, denies further charges of hacking and conspiracy to commit misconduct in a public office.
She edited the News of the World for three years from 2000, then the Sun for six years. In 2009, she became chief executive of the papers' parent company News International.
In July 2011, the News of the World was shut down by News International after it emerged the tabloid had instructed a private investigator to "hack", or intercept, voicemails left on the mobile phone of murdered teenager Milly Dowler.