Man jailed for refusing to give police USB stick password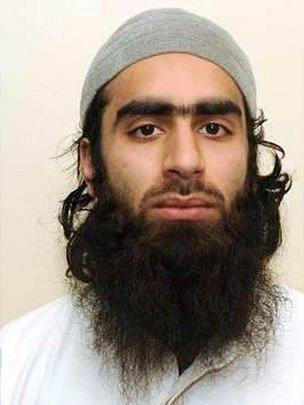 A man has been jailed for refusing to give police the password to a memory stick that they could not crack.
Syed Hussain, 22, from Luton, was convicted of failing to provide police with the password to the stick seized in a counter-terrorism operation.
He was already in jail for being part of a cell that considered attacking a Territorial Army base in the town.
He said he had forgotten the password until a fraud probe was launched. The judge jailed him for four more months.
Sending Hussain back to prison, Old Bailey judge Richard Marks said the defendant's deliberate failure and refusal to comply with a police notice to provide the password was a very serious matter because it had potentially hampered investigations.
Hussain and three other men were jailed in 2012 after admitting discussing attacking the town's TA headquarters by placing a homemade bomb on to a remote controlled toy car.
When Hussain was arrested in April 2012, police seized a USB memory stick from his home - but they discovered the information on the device was protected by sophisticated encryption technology.
Hussain told detectives that he could not remember the password because he was suffering from stress - which meant they could not access its contents.
Police called in experts from GCHQ, the government's secret eavesdropping and communications agency, but even they were unable to crack the device.
Police and prosecutors gave Hussain a deadline of last January to reveal the password - but his lawyers maintained that he had forgotten it.
Eleven months later police told Hussein's lawyers they had launched a fresh investigation into alleged credit card fraud by Hussain - and within days he revealed the memory stick's password was "$ur4ht4ub4h8", a play on words relating to a chapter of the Koran.
Police accessed the memory stick and found it contained information relating to the ongoing inquiry into alleged fraud - but nothing relating to terrorism or national security.
Related Internet Links
The BBC is not responsible for the content of external sites.