Freddie Starr held by Operation Yewtree over new claim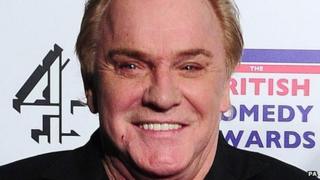 Entertainer Freddie Starr has been re-arrested by police probing historical allegations of sexual abuse.
Scotland Yard said the latest arrest relates to a further allegation made to detectives from Operation Yewtree.
Mr Starr, 70, from Warwickshire, who was first questioned in November 2012, has denied any wrongdoing.
Police said "Yewtree 2" was further arrested after attending a police station in Warwickshire by prior appointment, before being bailed.
They did not identify the entertainer by name.
Following his initial arrest, Starr was re-arrested in April last year over different allegations.
He is next due to return to police in February in relation to all the claims against him.
'Complex inquiry'
Operation Yewtree is an inquiry into allegations of historical sexual abuse linked to the entertainment industry.
It was launched in 2012 after it emerged the late BBC Radio One DJ and television presenter Jimmy Savile had subjected hundreds of young people and children to sexual abuse over more than five decades.
The operation has three strands. One concerns Savile's crimes exclusively, while a second relates to allegations against Savile and others.
The third strand termed "others" concentrates on accusations which emerged as a result of the publicity surrounding Savile but which are unconnected to him.
The Metropolitan Police said the new allegation against Mr Starr falls under the "others" strand.
The claims that led to his April arrest were also unconnected to Savile.
The allegations made when he was first arrested fall under the "Savile and others" strand.
Last June, Mr Starr's lawyer said the entertainer hoped to soon be able to clear his name and, in October, questioned the length of the investigation.
At the time, police said the delay was the result of the "complex nature" of the inquiry.