Prince Andrew to promote Britain in Bahrain visit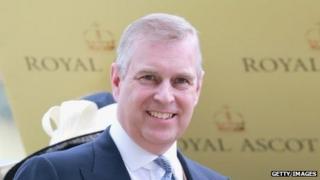 The Duke of York is due to start an official visit to the Middle Eastern state of Bahrain to promote the UK.
The UK government asked Prince Andrew to make the trip, which begins on Tuesday, as part of Britain's "Great" campaign to boost business and tourism.
Buckingham Palace said the visit would highlight links between the countries.
Questions have previously been raised about human rights in Bahrain since pro-democracy protests were put down during the Arab Spring of 2011.
Airshow guest
The duke will attend an education event organised by the British Council, meet young Bahraini entrepreneurs and join the audience of a cultural event featuring a performance by the Royal Philharmonic Orchestra, of which he is patron.
He will also be a guest at the official launch of Great British week at the Bahrain International Airshow.
A Buckingham Palace spokesman said: "Following a request from Her Majesty's government, the Duke of York will this week travel to Bahrain.
"The official visit coincides with Great British Week in Bahrain, which will highlight the bilateral relationship between the United Kingdom and Bahrain.
"His Royal Highness's programme of engagements reflects a number of the duke's core priorities, including education, young people and skills, and entrepreneurship."
The Great campaign promotes the UK around the world, building on the success of the Diamond Jubilee and London Olympics and Paralympics.
'Endless circuit'
Human rights organisation Amnesty International said anyone visiting Bahrain should go there with their "eyes wide open".
A spokeswoman said: "They have long ago reneged on promises to reform, and the country is now trapped in an endless circuit of protest-clampdown, further protest-further clampdown.
"Over recent years we've had police officers acquitted of murder and torture charges or given disgracefully lenient sentences, and protesters - including children - given very long prison sentences."
In a speech to the Bahrain British Business Forum last month, Britain's ambassador, Iain Lindsay, highlighted help the UK had given to implement reform.
In 2011, it was announced that the duke was to stand down as a trade envoy for Britain after being criticised for his links with controversial figures including a convicted sex offender, American financier Jeffrey Epstein.
Prince Andrew had held the role as "special representative" for Trade and Investment since 2001.