Madeleine McCann: UK police request Portuguese assistance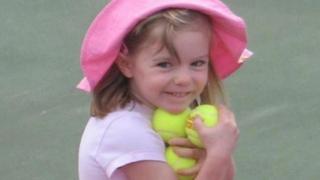 A letter has been sent to Portuguese authorities requesting help with the UK police probe into the disappearance of Madeleine McCann, prosecutors say.
The Daily Mirror said it was thought officers wished to question three burglars working in the resort where Madeleine went missing.
Police say a theory she was taken in a break-in was a key line of inquiry.
Portuguese police say they have not yet received the "international letter of request" drafted by UK prosecutors.
It would be passed on to them by the attorney general's office in Lisbon. The attorney general has told the BBC the CPS had notified it of its request but the letter had not been delivered.
The Crown Prosecution Service and the Met Police would not comment on the details of the letter.
Madeleine, from Leicestershire, was three when she disappeared in May 2007 from a holiday apartment in Praia da Luz in the Algarve, where she had been staying with her family.
Between January and May 2007 there had been a four-fold increase in the number of burglaries in the area, police later established.
Police said in October that in the 17 days before she disappeared there was one burglary and one attempted burglary in the block where the McCann family were staying.
Crimewatch appeal
The international letter of request was sent last week, the Crown Prosecution Service said.
According to its guidance, "requests for evidence which require a judicial oversight and/or involve a degree of coercion or invasion of privacy usually require a letter of request".
It should be a request to obtain "specific evidence" and not a "fishing expedition", the CPS says.
And when it comes to an investigation, a letter of request "should ideally be no more than the formal request for assistance that has already been agreed in outline with the competent overseas authority".
The CPS previously sent one such letter on behalf of British police in July, when the Met upgraded its review - codenamed Operation Grange - to a formal investigation in light of new evidence and new witnesses.
At that time, the police said there was a chance Madeleine was still alive and it was investigating 38 "persons of interest".
A spokesman for Madeleine's parents told the Daily Mirror: "It is necessary for British police to request the Portuguese authorities allow them to operate on their turf.
"Police want to be given a chance to arrest key suspects. It doesn't prove they have Madeleine but it will rule them in or out of the investigation and that is i­mportant."
The search for Madeleine was given fresh impetus in October when a BBC Crimewatch appeal that aired in the UK, Germany and the Netherlands in October led to 5,000 calls.
A Freedom of Information request showed that from May 2011 up to 31 August last year, Operation Grange had cost £4.7m, with 29 police officers and eight support staff assigned to the investigation.
In November, Met Police Commissioner Sir Bernard Hogan-Howe said the force was seeking an agreement to set up a "joint investigation team" with the Portuguese authorities.
That came after Portuguese police reopened their inquiry into Madeleine's disappearance in light of "new elements of evidence".
Thursday 3 May 2007: Timeline
20:30 Kate and Gerry McCann leave their apartment to have dinner at a Tapas bar
21:05 Gerry McCann checks on Madeleine and her siblings
22:00 A man is seen carrying a child wearing pyjamas heading towards the ocean
22:00 Kate McCann raises the alarm that Madeleine has gone missing