Archbishop of Westminster Vincent Nichols to become Cardinal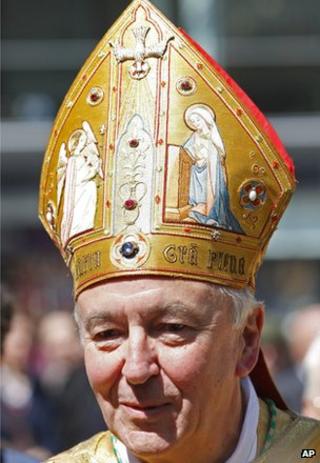 The Roman Catholic Archbishop of Westminster, Vincent Nichols, is to be created a Cardinal by Pope Francis.
Archbishop Nichols will be one of 19 new Cardinals from around the world who will be appointed at the next consistory of Cardinals, which takes place at the Vatican on 22 February.
He said: "I am deeply moved by the honour conferred on the Catholic Church in England and Wales and on the Diocese of Westminster in my appointment.
"Personally this is a humbling moment."
The announcement came during Pope Francis' Angelus in St Peter's Square on Sunday morning.
The head of the Church of England, Archbishop of Canterbury Justin Welby, welcomed the announcement.
He said: " I am absolutely delighted by this well-deserved appointment. Archbishop Nichols has demonstrated clear leadership, personal holiness and immense generosity. This strengthens the church in this country."
Archbishop Nichols will not be the only British Cardinal when he is appointed.
His predecessor as Archbishop of Westminster, Cardinal Cormac Murphy O'Connor, is already in the role but no longer has voting rights at the consistory because he is more than 80 years old.
There is also Cardinal Keith O'Brien who stepped down as leader of the Catholic Church in Scotland last year after admitting sexual misconduct.
Football fan
Archbishop Nichols is the 11th Archbishop of Westminster to be created a Cardinal.
He was born in Crosby, Liverpool in 1945 and as a young boy, he wanted to become a lorry driver.
He first felt the calling to become a priest at a football match as he explained in an interview with The Times in 2007.
"I'd gone to watch Liverpool and stand on the Kop at Anfield, and say to God 'Why don't you just leave me alone? Why can't I just be one of a crowd?'," he said.
The 68-year-old studied for the priesthood in Rome from 1963 to 1970 and was ordained as a priest in the city in 1969.
He achieved an MA in theology at Manchester University and an MEd from Loyola University, Chicago.
Archbishop Nichols' first role was as a parish priest in Wigan, where he was also a chaplain to a sixth-form college, and then he moved to work in Toxteth, Liverpool.
He was made director of the Upholland Northern Institute adult education centre in 1980 before, in 1984, he was appointed general secretary of the Catholic Bishops' Conference in England and Wales.
In 1996, he played a key role in the production of the Common Good document, in which the Catholic bishops condemned the rhetoric of greed in a move interpreted as endorsing New Labour.
He was named as the eighth Archbishop of Birmingham in 2000 and was appointed Archbishop of Westminster in 2009, the same year he was unanimously elected President of the Catholic Bishops' Conference of England and Wales.
Reflecting on his appointment as a Cardinal, he added: "This appointment enables me, on behalf of all, to serve the Pope in a direct and prolonged way.
"I seek the blessing of Almighty God for these new responsibilities and I ask for the prayers of all people of faith that I may fulfil them with energy and devotion."
The Cardinals are the most senior priests in the Catholic Church below the Pope.
In the past they were the local clergy of Rome but nowadays they are Bishops of important dioceses from around the world, heads of departments of the Vatican or priests or bishops who the Pope wants to honour personally.
Their primary responsibility is to elect a new Pope when the previous one dies or abdicates.
However when a Pope is in office they act as his advisors as well as running various aspects of Church life.