William Hague rejects Iraq 'abuse' complaint to ICC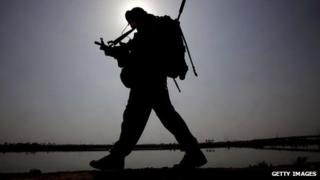 Foreign Secretary William Hague says a bid to prosecute British politicians and senior military figures for alleged war crimes in Iraq should be rejected.
The application was lodged with the International Criminal Court by lawyers said to represent more than 400 Iraqis.
Mr Hague told Sky News' Murnaghan programme: "These allegations are either under investigation or have been dealt with in a variety of ways."
Phil Shiner of Public Interest Lawyers (PIL) rejected Mr Hague's assertion.
The dossier submitted by PIL alleges that some "at the highest levels" were most responsible, including head of the Army Gen Sir Peter Wall and ex-Defence Secretary Geoff Hoon.
The government said allegations of abuse are already being investigated.
Mr Hague added: "There have been some cases of abuse that have been acknowledged and apologies and compensation have been paid appropriately."
He said the government "has always been clear and the armed forces have been clear that they absolutely reject allegations of systematic abuses by the British armed forces".
'No alternative'
Mr Shiner responded by saying: "This is about individual criminal accountability for war crimes. We have no interest in this country in prosecuting those responsible and no interest at all in prosecuting those responsible in positions of chains of command."
He said the ICC had "no alternative" other than to conduct an initial investigation into the complaint before deciding whether to proceed.
PIL made the formal complaint to the ICC on Saturday with Berlin-based European Centre for Constitutional and Human Rights (ECCHR).
They call for an investigation into the alleged war crimes under Article 15 of the Rome Statute.
The cases of more than 400 Iraqis represent "thousands of allegations of mistreatment amounting to war crimes of torture or cruel, inhuman or degrading treatment", the dossier says.
It describes incidents ranging from "hooding" prisoners to burning, electric shocks, threats to kill and "cultural and religious humiliation".
Other forms of alleged abuse between 2003 and 2008 include sexual assault, mock executions, and threats of rape, death, and torture.
The dossier says those most responsible for alleged war crimes "include individuals at the highest levels" of the British army and political system.
It argues that military commanders should have known that their forces "were committing or about to commit war crimes" and "civilian superiors knew or consciously disregarded information at their disposal" which indicated war crimes being committed.
Former Foreign Secretary Jack Straw told BBC One's Andrew Marr Show he was surprised that the allegations had not been included in Sir Peter Gibson's interim report released in December which looked at whether the UK was involved in improper treatment of detainees post-9/11.
PIL represented the family of Baha Mousa - who died in British Army custody in Iraq in 2003 - and is also representing alleged victims of mistreatment in Iraq at the Al-Sweady Public Inquiry into incidents after the Battle of Danny Boy in southern Iraq in May 2004.