Tribute to Andrew Priestley who drowned after saving sons in Australia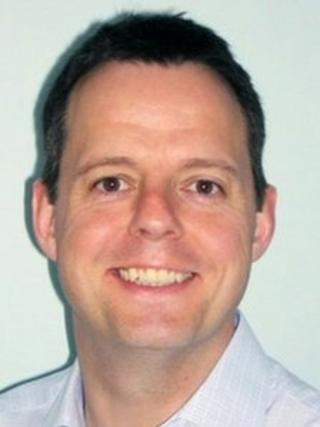 The family of a Leicestershire man who died after saving his two sons from drowning in Australia have said he was "the most amazing father".
Andrew Priestley, 44, from Market Harborough, died in hospital after he got into difficulty at Burrill Beach in Milton, New South Wales.
Mr Priestley was on holiday with his family when his two sons got caught in strong currents at the beauty spot.
A minute's silence will be held by his sons' sports club later.
After entering the water and rescuing his children, it is believed Mr Priestley may have suffered a heart attack.
A statement said: "The family of Andrew are devastated about his death in Australia. He died after saving his children.
"Andrew was the most amazing husband and father that any family could wish for. He adored his family and we adored him.
"The support and messages we have received have been overwhelming and we are thankful for that.
'Caught in a rip'
"It is heartbreakingly impossible at this moment to imagine our lives without him.
"We would ask that our privacy is respected at such a sad time."
Australian police said the man's children were unharmed. A report is now being prepared for the coroner.
Speaking to Radio 5Live, the editor of The Milton Ulladulla Times Glen Ellard said surfers, sunbathers and paramedics battled for 40 minutes to try and resuscitate Mr Priestley when he was pulled from the water.
Mr Priestley had been enjoying a day at the beauty spot with his wife, two sons and a daughter, when he saw his boys in trouble, the editor said.
'Struggling and in danger'
He said: "A person on a surf board went back and found him face down in the water. They put him on a surf board and paddled back to the beach.
"One of the people who paddled him back was struggling and in danger himself."
He was taken to Milton hospital and a helicopter was scrambled from Sydney to take him to a specialist unit, Mr Ellard said, but he was already dead.
The beach is notorious for its strong rips, the editor added.
"It has quite a bad reputation, in fact there was a drowning just over a month ago at the same beach," he said.
Rips form off Burrill Beach when the tide goes out and the nearby Burrill Lake drains, causing deep channels and fast currents, Mr Ellard added.
A statement from New South Wales Police Force released on Friday said: "Emergency services were called to Burrill Beach just after midday, where they found a man unconscious.
"The 44-year-old was taken to Milton Hospital where he was pronounced dead.
"Officers from Shoalhaven Local Area Command attended and were told the man, a British tourist, got into difficulty after attempting to rescue his two sons who were caught in a rip.
"His sons were not injured."
A spokesman for the Foreign and Commonwealth Office said the family was being offered consular assistance.