Duggan family vow to continue fight at angry protest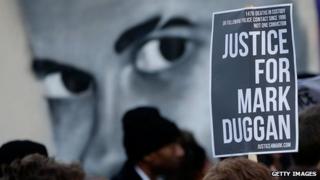 The steps of Tottenham police station became a platform for protest on Saturday as Mark Duggan's family vowed to continue their fight for justice.
Up to 500 people gathered at a vigil which followed what his family called a "perverse" inquest finding that he was lawfully killed by police.
There had been fears the event would be marred by violence after the riots sparked by his shooting by the Metropolitan Police in August 2011.
But the calls for peace were heeded with the crowd listening attentively to speeches - regularly joining in with angry chants of "no justice, no peace".
The vigil opened with a minute's silence led by his family - including his mother Pamela, aunt Carole, brother Marlon and some of his six children.
Media 'lies'
His aunt spoke first, stating the family's determination to continue their fight in a peaceful, dignified manner through the courts.
"Mark is not the first person to die at the hands of the police. There are thousands more," she said.
"There is no justice in this country. The more we people come together and support each other, maybe we can make a better life for our children."
The media was kept well back, tolerated more than welcomed, regularly blamed by speakers for the inquest's outcome by reporting "lies" and portraying Mr Duggan as a gangster.
The event was also a broader protest against police, with speeches from families of people who died after contact with officers, including Sean Rigg, a black musician who died in Brixton police station.
The crowd - many holding placards declaring "justice for Mark Duggan" - responded to their accounts with angry cries of, "Who are the murderers? Police are the murderers".
Mr Rigg's sister, Marcia, said they had persuaded the Independent Police Complaints Commission to open a "criminal investigation" into his death after years of campaigning.
"We only got that because we fought, so, Mark Duggan family, don't give up. Keep fighting," she said.
Call for peace
The police themselves maintained a low-key presence - many out of sight - with senior officers listening on from within the crowd.
There were cries of "shame" when the crowd - which included members of the RMT and NUT unions - was told local Labour MP David Lammy had not attended. But MP for neighbouring Hackney, Diane Abbott, spoke to the crowd.
One woman, who did not want to be named, said: "We were all really disappointed that he didn't turn up - we all felt let down and were asking what is it he does for the community."
The Rev Nims Obunge, who conducted Mr Duggan's funeral, closed the vigil by calling for peace, expressing his regret at having to bury a number of people killed by guns in the community.
"We must pursue justice, peace and truth. He left six children. They must believe that we are trying and that justice will prevail," he said.
There was a brief burst of the protest song "we shall overcome", then Mr Duggan's family released 12 doves representing peace into the freezing Tottenham skies.