David Cameron pays tribute to 'significant' Ariel Sharon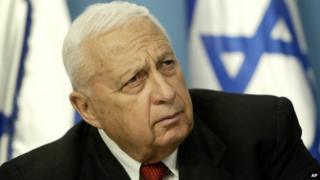 Prime Minister David Cameron has paid tribute to Ariel Sharon as "one of the most significant figures in Israeli history" following the former Israeli prime minister's death, aged 85.
Mr Cameron said Mr Sharon had taken "brave and controversial decisions in pursuit of peace".
The ex-army general played a major part in Israeli history.
He died of heart failure on Saturday afternoon after spending nearly eight years in a coma following a stroke.
His condition had worsened in recent days as several of his organs, including his kidneys, malfunctioned.
"Ariel Sharon is one of the most significant figures in Israeli history and, as prime minister, he took brave and controversial decisions in pursuit of peace, before he was so tragically incapacitated," the British PM said.
"Israel has today lost an important leader."
Labour leader Ed Miliband said: "Ariel Sharon was a figure who dominated Israeli politics for a generation.
"Nobody can doubt the impact he had on Middle East politics.
"My thoughts today are with his family after the many years of his illness."
'Battlefield strength'
And former chief rabbi Lord Jonathan Sacks hailed "a warrior who became a man of peace".
"He will be remembered as an individual who demonstrated his strength on the battlefield and inspired a nation to achieve remarkable victories in seemingly impossible battles, most dramatically in the 1973 Yom Kippur War," he said.
"He will also be remembered as an individual who demonstrated his strength in the political arena, leading his country with conviction and through a series of painful steps, to negotiate with enemies in the ongoing pursuit of peace."
Former Lib Dem leader Sir Menzies Campbell, meanwhile, told BBC News there would be different views on Mr Sharon's legacy.
Mr Campbell, who sits on the foreign affairs select committee, said: "I suspect that the judgements will depend upon which side of the argument people find themselves, whether - and I'm putting it rather crudely of course - whether pro-Israeli or pro-Palestinian.
"But you would have to say, I think, that there were opportunities when the peace he apparently espoused could have been prosecuted with rather more vigour."
Deadly attacks
Mr Sharon was seen as a great military leader by Israelis, having fought in four Israeli wars.
However, he was reviled by Palestinians and was known by many as "the butcher".
He was held partially responsible for the massacre of hundreds of Palestinians in refugee camps in Beirut by Lebanese Christian militiamen in 1983.
Mr Sharon was elected prime minister 18 years later, pledging to achieve "security and true peace".
As prime minister, he promoted the construction of Jewish settlements in the occupied Palestinian territories.
And he initiated the construction of the controversial West Bank barrier after a wave of deadly attacks by Palestinian militants who were able to get into Israel.
In 2005, in the face of fierce opposition, he ordered the unilateral withdrawal of Israeli troops and settlers from the Gaza Strip.
In the same year, he left the Likud Party to establish the centrist Kadima Party and appeared to be heading for re-election when he suffered the major stroke in 2006.