Missing Iranian-British man: Three arrested in Dubai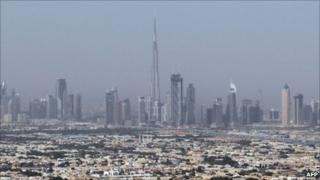 Three men have been arrested in Dubai over the disappearance of a British businessman of Iranian origin feared to have been abducted and murdered.
The whereabouts of Abbas Yazdi, last seen on 25 June, remain unknown but the emirate's authorities said they had forensic evidence linking the suspects with his kidnapping "beyond doubt".
Mr Yazdi, who has dual British-Iranian citizenship, had been living in Dubai.
He was once investigated by the UK's Serious Fraud Office over oil bribes.
Mr Yazdi disappeared hours after giving evidence via video-link to a tribunal in the Hague.
The hearing was considering a dispute involving the National Iranian Oil Company, owned by the Tehran government - and references to information supplied by UK officials are reported to have emerged during the case.
Last month, former director of public prosecutions Lord Macdonald said Mr Yazdi was likely to have been killed by the Iranian authorities after they were supplied with the information.
He claimed the Serious Fraud Office (SFO) had handed over hundreds of files from Mr Yazdi's computers to the authorities in Tehran following a request made through the UK's Home Office.
Arrests 'welcome'
"I think it is now incumbent on the Home Office to explain why they thought it was right to supply confidential material about a British citizen to an Iranian state agency that has historically been involved in summary extra-judicial executions," he said last month.
The Home Office has previously said it cannot comment for legal reasons.
Iran denies involvement and said it was still searching for Mr Yazdi, the Times reported last month.
On Friday, a UK Foreign Office spokeswoman said: "We welcome the arrests of three men by the Emirati authorities in connection with the alleged kidnapping of British/Iranian national Abbas Yazdi.
"The UK will continue to liaise with the Emirati authorities over the investigation."
A spokesman for the Metropolitan Police said counter-terrorism officers were involved in the investigation and the force was providing support to Mr Yazdi's family.
The UK has an international obligation to provide mutual legal assistance to other countries in certain circumstances, with requests received through the Home Office.
Both the Home Office and the SFO have refused to comment on matters of mutual legal assistance as a matter of policy.