Storms' link to climate change uncertain - Met Office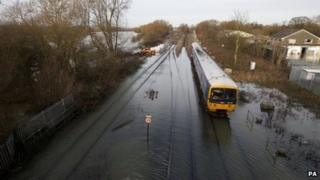 The recent storms that have brought heavy rain and floods to much of the UK cannot definitely be linked to climate change, the Met Office has said.
A spokesman said that was "a research project which hasn't been done".
On Wednesday, Prime Minister David Cameron said he "very much" suspected that an increase in abnormal weather events was linked to climate change.
Almost 100 flood warnings are still in place in England, along with one in Wales, but none remain in Scotland.
Eight people have been killed in flooding and weather-related incidents since severe weather began before Christmas, and hundreds of homes and businesses have been flooded.
The Met Office has not issued any more rain warnings for the coming days, but a yellow warning for ice has been issued for Friday morning.
The warning, which runs from 00:05 GMT to 09:00, covers much of southern England, East Anglia, the Midlands and parts of Wales.
It says "icy stretches" are expected to form as temperatures drop in areas which have had a lot of recent rainfall.
'Consistent with picture'
Speaking about the prime minister's comments, the Met Office's Dan Williams said: "No attribution study has been done, so you can't make a definitive statement about how more or less likely the recent flooding has become because of climate change."
In terms of the global picture, he said, "there has been some observed increase in some types of extreme weather and there is some evidence, depending on which types of extreme weather you are talking about, of a link between man-made climate change and some types of extreme weather".
He added: "You can't say definitively that an event is caused by climate change and climate change only because we have always had extreme weather.
"But the chances of extreme weather occurring may have altered because of climate change. So it would be consistent with the picture we have seen of increasing rainfall in the UK over the past few decades."
Speaking at the first Prime Minister's Questions of 2014 on Wednesday, Mr Cameron said the Cobra emergency committee would continue holding meetings about the impact of recent storms "until the threat has passed".
In response to a question about the extreme weather, Mr Cameron said: "I agree with you that we are seeing more abnormal weather events.
Travel
Check if this is affecting your journey
"Colleagues across the House can argue about whether that is linked to climate change or not. I very much suspect that it is."
Many of the flood warnings now in force, which are mostly in the south of England, are for the River Thames.
And forecasters are predicting possible snow in northern and eastern parts of the UK next week.
BBC Weather's Emma Boorman said cooler temperatures would set in from Thursday, becoming colder over the weekend.
"There is a snow risk for the north and east [of the UK], but not immediately," she said.