Bereaved workers 'need more support', charity says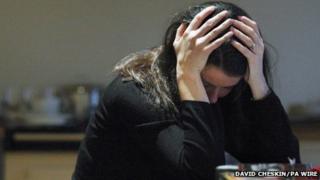 Bereaved people are being "failed" by the lack of support they get at work, a charity has said.
A National Council for Palliative Care report says the government should look into the "feasibility" of statutory leave from work after a loved one dies.
And it calls on all employers to tell workers what help they are entitled to.
A survey commissioned by the charity found 32% of people bereaved in the last five years felt their employer did not treat them with compassion.
The report, produced in partnership with the Dying Matters Coalition, says 87% of people surveyed felt all employers should have a "compassionate employment policy" including paid bereavement leave, flexible working and other support.
Email from HR
In the survey, carried out by ComRes, 56% said they would consider resigning if their employer did not provide proper support if someone close to them died.
Elaine resigned from a large accountancy firm after her husband died suddenly in 2007.
"I was given five days off and then took some holiday," she told BBC News.
"Because it was a sudden death there was lots to go through. I had to identify his body, there was a post mortem and a funeral to arrange so five days was never going to be enough."
After less than six months back at work she says received an email from the firm's HR department suggesting she "should be able to put it behind" her and "get back to some work at the pace we expect".
There is currently no statutory paid bereavement leave, although workers have the right to "reasonable" unpaid time off to deal with practicalities such as organising a funeral.
"The costs of bereavement are too great to ignore, both for individuals and for society," said Eve Richardson, chief executive of the National Council for Palliative Care, which is an umbrella charity for all those involved in palliative, end of life and hospice care in England, Wales and Northern Ireland.
"Employers have an important role to play by being compassionate and having a bereavement policy in place.
"It is also often the little things that matter and help make a difference, such as kind words from a manager or a card to say we are thinking of you."
'Stripped confidence'
The report also calls for improved training for all staff who come into regular contact with recently bereaved people, and a national review of the impact of welfare reforms on bereaved people.
Linda Sewell, a supporter of the bereavement charity Jack's Rainbow, resigned from her job at an independent school when her 19-year-old son died while travelling in 2008.
She said: "My employer stopped paying me - it stripped away my self-confidence. When you lose someone you really need support and understanding."
Lucy Herd, who founded the charity after her young son died in August 2010 has been campaigning for statutory bereavement leave.
"It's completely unrealistic to expect people who have lost someone close to them to immediately go back to work and carry on as normal," she said.
But Petra Wilton, from the Chartered Management Institute, said: "A one-size-fits-all statutory entitlement is not the solution.
"Being flexible and understanding what an employee is experiencing can help managers find a mutual agreement that meets the needs of both the employee and the employer."
She added: "Employers do need to think about what policies they have in place and whether their managers have the skills needed to handle sensitive conversations and to offer greater flexibility, which can make a huge difference at a time of distress."