Jail figures defended by government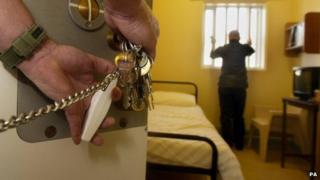 Downing Street has defended sentencing policy after figures revealed 50% of criminals convicted of sex offences, violence and burglaries in England and Wales in 2012 were not sent to prison.
Of paedophiles who abused children under the age of 13, 107 - nearly half - were not jailed.
Labour called the figures an "insult" to victims of crime.
But a spokesman for Number Ten said the government had already taken steps to encourage tougher sentencing.
The Ministry of Justice (MoJ) figures also showed that 40% of convicted robbers - about 5,000 people - and 51% of drug dealers were not jailed in 2012.
In cases of sexual assault, 49% - more than 2,300 offenders - were not given custodial sentences. Among those convicted of rape, 94% were sent to prison, the vast majority for more than four years.
'Prisons bursting'
Shadow justice secretary Sadiq Khan, who obtained the figures through a parliamentary question, said government cuts were undermining the justice system.
"When you speak to judges and those who work in the criminal justice system they tell us...that there are fewer police officers, the CPS are stretched, the probation service is stretched. Judges know that our prisons our bursting.
"And what this is leading to is victims saying, 'what is the point of reporting a crime, what is the point for witnesses to come and give evidence, if it means people who are found guilty are not receiving the appropriate sentence'."
David Cameron's official spokesman said: "My understanding is that these figures relate to a sentencing framework agreed for 2010. This government introduced automatic life sentences for a second serious sexual or violent offence and has announced plans to end automatic early release for dangerous offenders."
Justice Secretary Chris Grayling said he had stopped the practice of cautioning of adults for the most serious offences.
He added: "Of course you have to remember that under these categories there are a very, very broad range of offences, from the most trivial to the most brutal - they all get lumped together in the statistics. And the court will always decide on the circumstances in front of it.
"But don't get me wrong - I think people who commit serious offences should end up in jail."
Cautions
BBC Home affairs correspondent Danny Shaw said the overall proportion of offenders who were jailed - and the length of their sentences - had risen since Labour's last year in power.
MoJ figures show that for the 12 months ending in June 2010, the immediate custody rate was 7.2%, while for the 12 months ending in June 2013 it was 7.8% - although this was down from 8.2% in 2012.
The figures also show that the custody rate for violence, sex offences, burglary and robbery all increased between 2012 and 2013.
Our correspondent added that many offenders who are not jailed are those who have committed offences at the less serious end of the scale, as well as first-time offenders, children and teenagers.
An MoJ study on sexual offending published in January 2013 found that the prison population for sexual offences had increased by 57% between June 2005 and June 2011 - a faster rate of increase than the general rise in the jail population.
However, the BBC reported in November that the proportion of sex offenders who were given a caution had risen to its highest level for four years - with one in five offenders in England and Wales cautioned in the 12 months to the end of June.
The increase is in contrast to overall figures which show that the number and proportion of offenders cautioned for all criminal offences has fallen to its lowest level for at least a decade.
The figures show that 1,400 people were cautioned for sex offences. Of these, 400 were boys aged between 10 and 17 - for whom custody is deemed an inappropriate sentence.
The Scottish Government and the Northern Ireland Court Service publish separate figures on sentencing.