Last weather warnings expire - but flood risk remains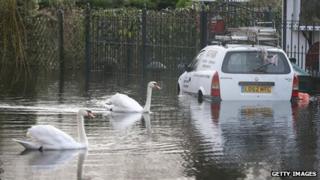 The last of many weather warnings issued by the Met Office since before Christmas has expired - but flood waters could still rise in some areas.
A rain warning for much of Wales and south-west England ended at 09:00 GMT, and no more warnings have been issued.
However, almost 100 flood warnings are still in place in England, along with four in Scotland and one in Wales.
The government's Cobra emergency committee is due to meet to discuss the response to the recent storms.
It comes as forecasters predict possible snow in northern and eastern parts of the UK next week.
BBC Weather's Emma Boorman said cooler temperatures would set in from Thursday, becoming colder over the weekend.
"There is a snow risk for the north and east [of the UK], but not immediately," she said.
Meanwhile, the Environment Agency said water was still draining into rivers, meaning some would continue to rise.
An Environment Agency spokesperson said on Wednesday that the impact of the rainfall would continue for "several days" despite the forecast of drier weather.
"It will not just have an immediate impact over the next few days - it's going to take a long time to drain away," she said.
The Met Office yellow warning - the lowest of three levels - which expired at 09:00 GMT covered southern and central Wales, the South West of England and some western parts of the Midlands.
Many of the flood warnings now in force, which are mostly in the south of England, are for the River Thames.
A band of heavy rain swept across south-west England and into Wales and other parts of western England on Wednesday, falling on already saturated ground.
In Oxfordshire, a cyclist, believed to be 73 years old, died after falling into floodwater - the eighth person confirmed dead in flooding and weather-related incidents since severe weather began before Christmas.
On Monday, Environment Secretary Owen Paterson said 1,700 homes and businesses in England had been flooded. At that time 140 properties in Wales were also known to have flooded.
More rain has fallen in many areas since then, but new figures for the number of properties affected have not been released.
Travel
Check if this is affecting your journey
Speaking at the first Prime Minister's Questions of 2014 on Wednesday, David Cameron said the Cobra emergency committee would continue holding meetings "until the threat has passed".