Stormy December: In numbers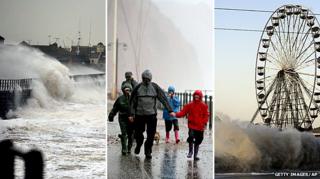 Last month was the stormiest December since 1969, according to Met Office statistics. A series of major storms battered the country, starting on the 5th and 6th of the month, causing disruption for many as the strong winds and rain brought down power lines, flooded homes and triggered landslips.
The Met Office figures also show that December 2013 was one of the windiest calendar months since January 1993. The figures are based on analysis of wind speeds above 50 knots (58mph) at a number of weather stations in the UK.
The highest gust of wind - 142mph - was recorded at Aonach Mor in the Scottish Highlands but this is still considerably below the 173mph recorded in the Cairngorms in March 1986.
December was also a very wet month. The UK received 184.7mm of rain, making it the sixth wettest December on record for the country as a whole. But Scotland was drenched in its wettest December on record, with an average rainfall of 296.1mm, beating the previous high set in 1986 of 268.5mm.
The rainfall contributed to a rise in groundwater levels - particularly in the south and south east of England - where levels were above normal by the end of the month. Raised groundwater levels means an increased risk of flooding as there is nowhere for the rain to drain away.
The weather has been very mild so far this winter. Average temperatures across the UK measured 5.7C, making it the eighth warmest December on record. Scotland recorded an average temperature of 5.1C, 2.3 degrees higher than average, making it the fifth warmest December north of the border.
Despite the wind and rain, December also saw more sunshine than usual. The UK as a whole recorded 44.2 hours of sunshine, 8% more than average. But again figures varied across the country with England recording 57.6 hours, 22% above average, while Scotland measured 19% below average sunshine for the month.