UK storms: Warnings bring fresh coastal flood fears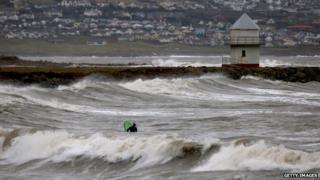 Dozens of flood warnings remain in place across the UK as fresh storms are expected to roll in overnight.
Forecasters warn strong winds and large waves will hit the west of the country on Monday, and the Environment Agency has urged residents in Oxfordshire and Dorset to prepare for more floods.
Storms have caused flooding in Northern Ireland, while roads and trains have been affected in many parts of the UK.
A severe flood warning, meaning "danger to life", is in place in Dorset.
It has been issued for the Lower Stour at Iford Bridge Home Park, Bournemouth.
Meanwhile, a man has died after his mobility scooter fell into a river.
The 47-year-old was pulled out of Osney Lock in Oxford on Saturday evening but he died at the scene.
Police said it was a "tragic incident" that highlighted the dangers of using flooded pathways.
BBC forecaster Laura Gilchrist said the frequency of the recent storms to batter parts of the UK was highly unusual.
The Met Office issued a warning of gusts of up to 70mph on Britain's west coast, the south-east of England and the east coast of Northern Ireland on Monday.
In other developments:
The storms hit the transport network with major roads closed earlier in areas including Ayrshire, Herefordshire, Gloucestershire, Somerset, West Sussex, Surrey, Berkshire, Pembrokeshire, the Isle of Wight and Wiltshire.
Some train routes in England, Wales and Scotland were disrupted by flooding and poor weather conditions, National Rail said.
Residents in Dorset and Oxfordshire, already inundated by high waters, were again urged by the Environment Agency to prepare for "significant flooding" on the Thames, Dorset Stour and Frome.
Flooding is also expected to continue on the Somerset Levels, and rivers in the South East of England, including the Severn, remain "very high".
"Environment Agency teams remain out on the ground across the country and will continue to work around the clock to protect communities at risk," said the agency's flood risk manager Jonathan Day.
The Thames Barrier closed at 14:00 GMT because of "ongoing high flows and spring tides" and reopened on Sunday evening.
As well as the severe flood warning for Iford Bridge Home Park, more than 90 flood warnings - meaning flooding is expected and immediate action is required - are in place in England and Wales.
More than 200 flood alerts - meaning "flooding is possible, be prepared" - are also in place.
In Scotland, 10 flood warnings are in place in Perth and Kinross while, elsewhere in Scotland, a further 15 flood alerts are in place.
The Environment Agency says around 220 homes properties have been flooded to date.
Forecasters are warning of more coastal flooding on Monday.
The Met Office said a large, deep depression in the Atlantic had been "whipping waves up" out at sea on Sunday and these would come into western and southern coastal areas of the UK as a large swell on Monday.
"This, combined with waves driven by the winds in UK waters on Monday, will generate wave heights of 7-10m over parts of western Scotland, Wales and south-west England, and 3-7m in much of the English Channel and Irish Sea," it added.
The Met Office said the public should be aware of the dangers of waves crashing onshore and over topping shore lines and sea fronts.
Facing accusations that flood defence budgets have been slashed, Prime Minister David Cameron earlier said he expected "record levels" of spending over the next seven years, including "£2.3bn in this four-year period".
Travel
Check if this is affecting your journey
Shadow environment secretary Maria Eagle said the government had cut funding by £100m in real terms.
"It's all very well the prime minister today talking about investment in the future but 130,000 people have been affected now and they want to know why there's been this big cut in support," she told Sky News.
It comes after the government confirmed 1,500 jobs would go at the Environment Agency, with some reports suggesting this included 550 from its floods team.
Environment Secretary Owen Paterson has said the agency needs to make efficiency savings but he has received assurances about front-line services.
On Sunday afternoon he chaired a meeting of the government's Cobra emergency committee "to ensure everything is being done on the ground to prepare for bad weather ahead".