Cameron urged to rethink military widows pension rules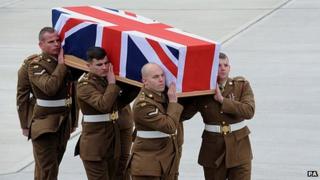 David Cameron should make a new year's resolution to stop "condemning" military widows to a "solitary life", the Forces Pension Society has said.
The not-for-profit group said current rules meant widows generally lost their forces pension if they remarried.
Its chairman Sir Christopher Coville said the rules were an "obscenity" and an "affront to the military covenant".
The Ministry of Defence (MoD) said it was a "long-standing principle" not to improve pensions "retrospectively".
The society said pension schemes varied but the majority of widows had to stay single to keep the money.
'Public' resolution
"Decent women with a natural human need for love and partnership are being condemned to a life of solitude and are being treated like criminal suspects," Sir Christopher said.
He said the prime minister had "championed" the military covenant - which, according to the MoD website, recognises that the "whole nation has a moral obligation to members of the armed forces and their families".
Sir Christopher called on Mr Cameron to make a "public new year's resolution to stop condemning forces widows to a solitary life".
The society said the average pension being claimed by widows was worth less than £3,000 a year when it was taken away, but most widows were not wealthy so they could not afford to lose the money.
It said continuing such payments would cost no more than £250,000 a year in total, and some money could be saved by ending the need for checks on those being paid a pension.
The MoD said it had "consulted widely" on the issue.
"It is a long-standing fundamental principle, adopted by successive governments, that pensions should not be improved retrospectively for those who are no longer contributing members, or for their dependants," a spokesman said.