UK welcomes in New Year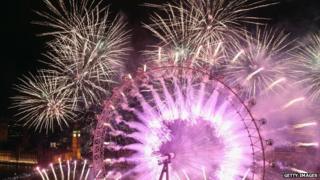 Millions across the UK have celebrated the start of the new year, with parties, music and fireworks.
Peach-flavoured snow and edible banana confetti fell on 50,000 revellers gathered by the River Thames for London's "multi-sensory" firework show.
Fireworks lit up the skies above three Scottish cities and one town at 20:14 GMT to herald the change of date.
There were more fireworks in Cardiff, while Belfast's City Hall was lit up with rainbow colours.
Party atmosphere
In what was billed as "the world's first multi-sensory fireworks display", Londoners and city visitors were doused in apple, cherry and strawberry mists and big orange-scented bubbles.
Partygoers in an area the size of three football pitches were able to taste and smell the party atmosphere.
Another 100,000 or so lined the Thames, despite being beyond the reach of the mist and bubbles. They were given packs of fruit sweets and LED wristbands.
London Mayor Boris Johnson said there was "no better way" to celebrate the highs of 2013 and the start of an exciting new year than by seeing "one of the world's most dazzling firework displays, now augmented in more ways than one".
The Metropolitan Police said 100 people were arrested up to 04:30 GMT including 39 for drunk and disorderly behaviour and 21 for assault.
Others were arrested for drugs offences, affray, sexual offences, theft and carrying an offensive weapon.
Chief Inspector Robyn Williams said forecasts of wind and rain had not deterred revellers from filling up the fireworks viewing area in record time.
"Crowds were good natured and there were no major issues reported to police," she said.
Edinburgh's famous Hogmanay street party, part of three days of celebrations, attracted an estimated 80,000 people.
The Pet Shop Boys shared the Concert in the Gardens stage with the 1975 and Nina Nesbitt, while the street party had music on three stages from acts including King Creosote and Django Django.
Traditional Scottish music was played at The Keilidh, an outdoor dance event.
Mystery runner
Simultaneous firework displays took place in Edinburgh, Inverness, Stirling and the Aberdeenshire town of Stonehaven at 20:14 to mark the start of Scotland's Year of Homecoming, a year-long programme of events alongside the Commonwealth Games and Ryder Cup.
In Wales, more than 1,200 runners joined the annual Nos Galan evening road race near Mountain Ash in the Cynon Valley.
The four-mile race has been run for 55 years in honour of 18th Century athlete Griffith Morgan, and is always led by a "mystery" international sporting star - this year Wales rugby star Alun Wyn Jones.
In Belfast, lights at City Hall counted down to midnight, and in Londonderry its last few hours as the UK City of Culture 2013 were marked with a service in the cathedral.