Archbishop of Canterbury names Pope his 'person of the year'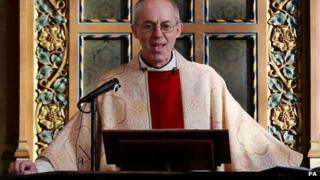 The Archbishop of Canterbury has said Pope Francis is an "extraordinary man" and his person of the year.
"He has changed the sense of direction and purpose of the Catholic Church with his personal example," the Most Reverend Justin Welby told the BBC.
He also said that the Church of England was still working out how to dispose of £80,000 in shares which indirectly fund short-term loan companies, like Wonga.
When the investment emerged in July, the archbishop said he was embarrassed.
A review was conducted and the Church was now trying to dispose of those shares "without disposing of millions and millions of pounds of investment at a loss because they have a responsibility to pensioners", he said.
The amount of Church money indirectly invested in Wonga was about £75,000 out of investments totalling £5.5bn, the archbishop pointed out in July.
Pope Francis, who took over from Pope Benedict after his resignation in March, was named person of the year by Time magazine earlier this month.
The US publication said the Pope had pulled "the papacy out of the palace and into the streets".
Since his succession, Pope Francis has adopted a markedly less formal tone than his predecessor, underlining his reputation for simplicity and humility.
It has been suggested he plans to radically reform the Vatican bureaucracy and, in an unprecedented move, he has ordered a survey of lay Catholics' opinions on Church teachings on sexual ethics and family life.
Archbishop Welby, who leads 80 million Christians in more than 160 countries, said he would not want to compare himself to the Pope whose reach was 20 times bigger than the entire Anglican communion.
"The Pope has been hugely effective. I would certainly put him as my person of the year," he said.
"Well, I'd probably have several, but if you want one, I'd put him there. He's extraordinary."
Despite the warm personal relationship between the two leaders, however, their churches remain far apart on many issues, says the BBC's religious affairs correspondent, Robert Pigott.
The Anglican decision to ordain women as priests ended hopes of structural unity between the churches, he says, while the last pope's decision to create a special "Ordinariate" within the Catholic Church - as a home for former Anglicans - alienated many in the Church of England.
However, Pope Francis who was reported by one Anglican presiding bishop as saying at the time the Ordinariate was set up that Christianity "needed us as Anglicans", our correspondent pointed out.
He went on to say Pope Francis had shifted the conversation about Christianity away from "small minded rules" to essential values such as "compassion, love and forgiveness, shared by the religiously minded and secular alike."
Archbishop Welby's comments were made during his appearance on BBC Radio Four's Today programme, which was guest edited by Barclays chief executive Antony Jenkins.
Both spoke of the "similarities" between leadership of a bank and of the Church of England.
Asked about the banking industry, the archbishop said there had been a "progressive loss of vision" of what banks were for and its leaders urgently needed to move away from serving shareholders.
Mr Jenkins, who became Barclays boss last year, said he expected it would take five to 10 years to restore public trust in his bank.