Tory peer Lord Howe calls for Syrian refugee rethink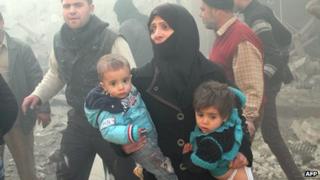 A government minister has joined calls for the UK to consider taking refugees fleeing the civil war in Syria.
The government has no plans to accept Syrian refugees and says it is better to offer financial help.
But Tory health minister Lord Howe said people were in desperate need and the EU should look at accommodating some.
Conservative chairman Grant Shapps said Britain was making a large financial contribution to helping Syrian refugees and could "hold its head up high".
Lord Howe told BBC Radio's 5 live Breakfast: "I think we have got to look at this urgently. There are people in desperate need, we cannot accommodate them all.
"I think the European Union has a duty to look at what it can do, both on the ground for those refugees from Syria but also whether we can accommodate some of them.
"I certainly think we should look at this and we have in the past been a country that looks kindly on people in distress and are the victims of violence in their native countries and that should not change."
UK Independence Party leader Nigel Farage and former Liberal Democrat leader Sir Menzies Campbell have made similar calls in recent days.
On Sunday, Mr Farage suggested Western countries should agree to take an allocation of refugees but did not specify numbers.
He has led opposition to allowing open immigration from Romania and Bulgaria in the new year but said refugees were a "very different thing".
Last week, Sir Menzies said it would be "entirely reasonable for the UK to take its share of responsibility for refugees".
Conservative MP Mark Pritchard said he expected the government would change its mind - either "willingly or unwillingly".
In a report released earlier this month, Amnesty International accused European Union leaders of "miserably failing" to provide a safe haven to Syrians.
Ten member states have offered to take in refugees, but only 12,000 of them, it said.
Mr Shapps said the government was not going to change its policy on accepting Syrian refugees.
"Britain's contribution to the humanitarian crisis [of £500m] is equal to all other 27 EU countries combined," he told BBC's World at One programme.
He said the UK was putting in a "massive amount of effort" and suggested taking in 500 or 1,000 refugees would not solve the problem.
"This is a humanitarian crisis that involves millions of people. This country can hold its head up high," he added.
Earlier, the UK government said more than 1,100 Syrian nationals had been granted asylum in the year up to September and asylum claims would be considered "on their merits and in line with the immigration rules".