Power companies 'let customers down' during Christmas storms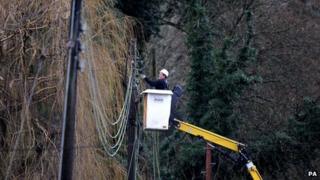 Some power companies "let their customers down badly" over Christmas, the environment secretary has said.
Owen Paterson's comments came after more than 150,000 properties were cut off during the Christmas storms.
Torrential rain across parts of Scotland on Monday led to flooding and problems on the roads and rail network, with 14 people evacuated from flooded homes in East Ayrshire.
Strong winds and heavy rain also caused problems across other parts of the UK.
Transport problems
Travel
Check if this is affecting your journey
Met Office amber "be prepared" warnings for these areas have now been lifted, but yellow "be aware" warnings remain in place for them and much of central and southern Scotland until 1700 GMT.
The Scottish Environment Protection Agency has 31 flood warnings in place, across Ayrshire and Arran, Dumfries and Galloway, the Scottish Borders, Tayside and West Central Scotland.
BBC Weather's Matt Taylor said the rain was starting to ease off in Scotland but would be back again on Tuesday and Wednesday, increasing the risk of more flooding.
The Environment Agency has eight flood warnings for England, for the Midlands, the Northwest and Southwest regions.
Transport problems on Monday included:
A landslip between Dorking and Horsham halted services between Gatwick Airport and London, Southern Railway said. The route was being used for alternative services to the airport while engineering work was carried out on the Brighton main line. Southern is operating a service between London Victoria and East Grinstead with onward bus connections to Gatwick.
Pre-Christmas landslips in four separate locations have meant there are no rail services between Petersfield in Hampshire and Haslemere in Surrey until 6 January.
Flooding in Wales has caused disruption to train services.
Roads and trains in Scotland have been hit by disruption caused by flooding.
No trains running on the Isle of Wight due to flooding in Ryde.
Roads near the tallest building in Leeds, Bridgewater Place, reopened at 16.00 GMT after being shut because of high winds.
Fallen trees closed the A36 in Hampshire and the A35 in Dorset. Both were later reopened.
The South East of England was worst-hit by the power failures over Christmas, with tens of thousands of homes in north Wales and Cumbria also left without power because of the storms, which caused travel disruption and flooding in the run-up to Christmas.
Most of the final 600 properties to have lost power before Christmas were reconnected on Sunday.
However, even then UK Power Networks said four properties in "very rural" parts of Kent were still without power because of damage to equipment to the property which will require further repairs.
Alexandr Prisyazhnyuk, who lives close to Canterbury, said his house had been cut off two days before Christmas after trees fell on cables that connected his home to the grid.
"I call UK Power every two hours and haven't had any response from them," he said.
Mr Paterson told BBC Breakfast power companies should have been aware that the Environment Agency was warning of severe weather in the run-up to Christmas.
"Quite clearly some of the power companies let their customers down badly," he said.
"It seems obvious at this stage that they let too many of their staff go away for the Christmas holiday, they didn't have enough people manning the call centres and that wasn't acceptable."
The unsettled weather looks set to continue into the new year after the Met Office issued yellow warnings for rain on New Year's Eve and New Year's Day, affecting southern England, Wales, Northern Ireland and western Scotland.
The Environment Agency said there was a "continuing risk" of flooding, particularly in south-west England.
At the weekend, UK Power Networks promised to increase compensation payments to customers who had lost power in the Christmas Eve storm.
The firm said it would increase payments for 48 to 60-hour outages from £27 to £75 for those affected on Christmas Day.
Meanwhile, the Civil Aviation Authority said it was talking to Gatwick Airport to establish whether it could have done more to help passengers who were stranded over Christmas after power problems at its north terminal affected check-ins.