Most storm-hit homes 'to get power back on Sunday'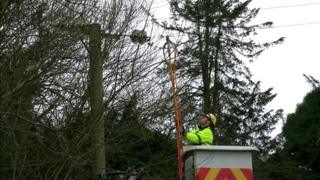 Most UK properties still cut off from electricity following the Christmas storms will be reconnected by the end of Sunday, power firms have said.
Electricity North West in Cumbria, UK Power Networks in south-east England and Scottish Power Networks in Wales said only 130 properties had no power.
Earlier, the head of UK Power Networks, Basil Scarsella, said his firm "should have done more" to help customers.
His comments came as forecasters warned of more storms expected on Monday.
Travel
Check if this is affecting your journey
The Met Office has issued a yellow alert - meaning "be aware" - for rain for south-west England, Wales and parts of central and south-west Scotland.
"With ground already saturated over much of this region, the public should be aware of the risk of further local flooding," the Met Office said.
It also has yellow alerts for strong wind in place for Wales, south-west England, London and the South East - with gales of up to 80mph expected in parts.
Dangerous ice patches could form in the South West on Sunday evening as temperatures drop to below freezing, it warned.
Prime Minister David Cameron has urged councils to draw up "robust plans in case of bad weather and flooding over New Year".
Environment Secretary Owen Paterson on Sunday chaired a meeting of the government's emergency response committee, known as Cobra, in response to the storms. The "update meeting" involved ministers and officials.
The Energy Networks Association, which represents power network operators, tweeted on Sunday afternoon that engineers had restored power to all but 130 properties which they expected to reconnect over the course of the day.
UK Power Networks told the BBC that 51 customers in Kent were still without power, along with four in Sussex and seven in Surrey.
But it added these premises would have power restored by Sunday evening at the latest.
However, chief executive Basil Scarsella told the Mail on Sunday: "We could and should have done more.
"It is taking us longer than normal to restore power supplies... The difficulty we had was because it was a festive period - too many of our staff were away which meant we had depleted resources."
Mr Scarsella said he was "considering restricting employees' holiday in future".
But he added hundreds of employees had given up their festive breaks to help, and "once we had an idea of how bad it was we were able to mobilise as many engineers and office staff as possible".
Scottish Power Networks earlier said it hoped to restore power to fewer than 100 remaining storm-hit properties in north Wales on Sunday.
And Electricity North West said its last 70 customers in Cumbria would soon be reconnected.
Southern Electric meanwhile said on Sunday that teams had already restored electricity to all customers affected by the Christmas storms.
In a statement, watchdog Ofgem stressed that energy companies were obliged to get power back on as soon as possible.
It said there were also "well established industry processes in place in event of severe weather and loss of supplies to share engineering resources and expertise across the network to help with supply restoration in the areas affected.
"The priority for the energy companies is to reconnect remaining customers and we are monitoring progress with this.
"In due course it will also be necessary to review events and ensure any further lessons that need to be are learnt."