More heavy rain and wind to hit before New Year, forecasters say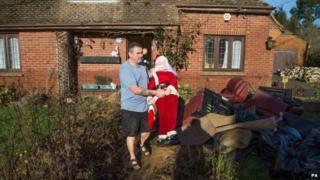 The Met Office has issued a yellow alert ahead of heavy rain and wind on Monday, as efforts to clear up damage caused by Christmas storms continue.
The south-west of England, Wales and Scotland will be the worst affected.
PM David Cameron has urged councils to draw up "robust plans in case of bad weather and flooding over New Year".
Energy firms say some of the 1,500 properties still without electricity after Christmas storms will be without power until next week.
Travel
Check if this is affecting your journey
Despite more settled weather over the weekend, the Met Office said heavy rain and strong winds were expected in parts of southern England, Wales and Scotland on Monday.
Saturated ground
Winds of 60mph (97km/h) to 70mph are likely in Wales and areas of south-west and southern England, while exposed areas such as the Isles of Scilly, west Cornwall and west Wales could be hit by gales of up to 80mph.
"With ground already saturated over much of this region, the public should be aware of the risk of further local flooding," the Met Office said.
Scotland is also preparing for further heavy rain on Sunday night into Monday morning, with 20 to 30mm (1in) of rainfall predicted and as much as 50 to 60mm over high ground.
Mr Cameron tweeted on Saturday: "I've asked the Dept for Communities & Local Govt to ensure councils have robust plans in case of bad weather and flooding over New Year."
A Downing Street spokesman said ministers had held a Cobra meeting "as part of the government's ongoing work to deal with the severe weather and floods".
Those taking part in the virtual meeting were housing minister Kris Hopkins, energy minister Baroness Verma, business minister Lord Livingston and officials from the Environment Agency.
'Clear timeline'
BBC political correspondent Iain Watson said the government was trying to get on to the front foot following criticism of its response to the severe weather, and over the continued power cut faced by households.
Energy Secretary Ed Davey was now insisting that power companies presented a clear and public timeline for getting the power back on, our correspondent said.
Mr Davey told the BBC News Channel it was the uncertainty of when the power would come back which had irritated people.
"The one thing I've been making very clear to all the power companies, is talk to your customers, tell them what's happening, tell them when they can expect to be back online and I think that has been the biggest complaint coming through," he said.
Compensation payments
Meanwhile, 14 flood warnings remain for England and Wales, with 17 in Scotland.
The Environment Agency warned residents in southern and south-west England of a "continued heightened flood risk" ahead of Monday's rain.
River levels remained high and the ground was already saturated in many areas, it said.
Large rivers such as the Thames, Severn and Great Ouse, in Cambridgeshire, would remain particularly high over the next few days, it added, while the River Medway and Stour in Kent were expected to cause continued flooding and travel disruption.
The agency's Craig Woolhouse said: "Our thoughts are with those who have been affected by flooding over Christmas. Our teams remain out on the ground working around the clock to protect communities from flooding.
"We urge people to stay safe and avoid driving or walking through flood water and visit the Environment Agency website for advice and sign up for flood warnings."
The Energy Networks Association, which represents the operators of power networks across the UK, has said about 1,500 properties are still without power.
And one of Britain's biggest power distributors, UK Power Networks, promised to increase compensation payments to customers who had lost power in the Christmas Eve storm.
The firm, which says more than 600 homes in Kent, Surrey and Sussex are still cut off, will increase payments for 48-60 hour outages from £27 to £75 for those affected on Christmas Day.