Tenerife blast injures British mother and daughter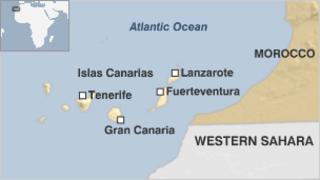 A British woman and her eight-year-old daughter are believed to be among several people who have been injured in an explosion at a hotel in Tenerife.
The woman is being treated for severe burns to her face and scalp following Friday's blast at a hotel poolside bar in the coastal town of Adeje.
Her daughter suffered neck burns and two women were treated for minor burns.
Authorities in the Canary Islands said a British man had also suffered minor abrasions but the hotel denied this.
The incident happened late on Friday afternoon. Emergency services were called to an explosion in a machine in a poolside bar at Bahia Principe hotel in Playa Paraiso.
A spokesman for the Bahia Principe claimed that the British woman's husband and a second daughter had avoided injury but were "obviously in shock" at what had happened.
"This was an accident and we still are not sure what went wrong - we are awaiting the investigation of the judicial police," he said.
"The explosion took place in a metal buffet container by the pool which uses a flammable gel to keep food warm.
"The swimming pool is now open again and the hotel is back to normal.
"We would like to wish those who were injured a speedy recovery."
'Beer canister'
Local media reports said the explosion was caused by a beer canister.
The British woman suffering serious injuries was taken to La Candelaria hospital in Tenerife's capital, Santa Cruz.
The young girl and man received treatment in the smaller Hospiten Sur in Arona, to the south of the island.
A 34-year-old Spanish woman was treated for minor injuries at the Quiron Costa hospital in Adeje together with a 38-year-old Belgian woman.
The Foreign Office says it is on standby to help.
A Foreign Office spokeswoman said: "We are aware of reports of an incident involving British nationals and are talking to local authorities. We stand ready to help if needed."