Power company to boost storm compensation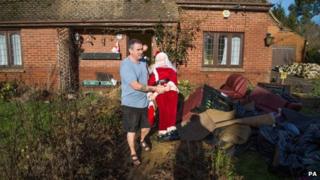 One of Britain's biggest power distributors says it will increase compensation payments to customers who lost power in the Christmas Eve storm.
UK Power Networks - which says 1,000 homes in Kent, Surrey and Sussex are still cut off - will increase payments for 48-60 hour outages from £27 to £75 for those affected on Christmas Day.
More than 20 flood warnings remain for England and Wales, with 20 in Scotland.
Landslips in Surrey, Sussex and Hampshire are hitting rail services.
Travel
Check if this is affecting your journey
Meanwhile, the Met Office is warning that more wind and rain is forecast for the UK on Monday.
UK Power Networks (UKPN), which owns electricity lines and cables in London, the South East and East of England, said it will almost triple its compensation for those affected by long-term power cuts.
It said power was initially interrupted to more than 300,000 customers when high winds struck on Tuesday night.
On Saturday morning it said 663 properties in Kent, 97 in Surrey and 326 in Sussex were still without power.
The company said that as a "gesture of goodwill" it would raise the industry-standard payment from £27 to £75 for people without power for 48-60 hours including Christmas Day.
It said additional payments will be made to customers who have been without electricity for longer than that time - up to a maximum of £432.
Director of customer services Matt Rudling said: "This is such a difficult time of year for people to be without power and so many families have also been flooded out of their homes.
"Our hearts go out to our customers and we have been trying different ways to help them, from arranging Christmas dinners to providing more help and tools on our website."
The Energy Networks Association, which represents the operators of the networks, said around 4,000 properties across the UK were still without power.
Northern Ireland Electricity said some 400 homes are now waiting to have their power restored.
In Wales, around 1,500 properties - mainly in Anglesey and Gwynedd - were still without power on Friday night.
There are 1,600 people without power in the Workington area of north Cumbria, but Electricity North West said it managed to restore power to 20,000 properties after the high winds on Friday.
Area manager Mark Williamson said: "Yesterday we were restricted to how much we could repair because of the weather, it was difficult for our engineers and in particular our linesmen who need to climb poles. As the winds abated we were able to carry out repairs."
Caroline St Clare Grondona, from Chiddingfold in Surrey, said power firm SSE had been "useless" since her power was cut off on Monday.
"They are providing no information and we are not even appearing on their list of homes without power," she said.
"The fridge and freezer have defrosted so there is a lot of thawed out food. Christmas Day was spent with my sister but since then we've been stuck at home."
An SSE spokesman said 800 homes in its area of southern England were still cut off - mostly in "rural pockets" - and staff would keep working until all were reconnected.
'Do better'
Prime Minister David Cameron was confronted by a flood victim as he visited Yalding, in Kent on Friday, where homes have been damaged.
Resident Ericka Olivares criticised the response of the power firms and local authority: "We still have no electric. We need electric. As I say the council, from Monday we have been trying to contact them, but they have all decided to go on their holidays. Nothing."
Mr Cameron said the severity of flooding in the area made it difficult to ensure homes were protected, but "we have got to do more and we have got to do better".
The leader of Kent County Council, Paul Carter, defended the way the crisis had been handled.
"Today there'll be further skips coming in, I'm surrounded by UK Power Network vans at this moment in time, desperate to get the last remaining part of the village back on electricity.
"But generally the whole of the emergency planning operation has worked exceptionally well, in my view, over the last three or four days."
He added: "It would be nice to have extra money from central government to build some proper flood defences for this part of the country and the county of Kent."
Robin Gisby, managing director of network operations at Network Rail, said this week "has been one of the most challenging periods we have faced in recent times".
The line between Petersfield and Haslemere will be closed until at least 6 January after being blocked by four landslips near Liphook, South West Trains said. Buses will replace trains.
The track at Ockley between Horsham and Dorking is also closed following a serious landslip.
Charlie Powell from the Met Office said that while the weather would be calmer over the weekend, another area of low pressure was developing which would bring gales and heavy rain across the UK during the early hours of Monday morning. It has a yellow warning - meaning be aware - in place.
"Even modest amounts of rainfall, because the ground is so saturated, even relatively-small amounts of rainfall will still cause problems. It is most unwanted," he said.