Syria prison death: Abbas Khan inquest opened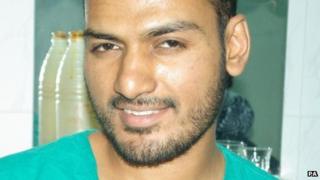 An inquest into the death of a British doctor who died in a Syrian prison has been opened and adjourned.
Syrian authorities believe Abbas Khan hanged himself in his prison cell, Walthamstow Coroners Court heard.
Mr Khan died days before he was due to be released, and his family believe he was murdered by the Syrian regime.
A Syrian coroner who examined him found no signs of violence. No cause of death has been released following a post mortem conducted in the UK.
A British police Detective Chief Inspector who is acting as a liaison between the coroners court and the British and Syrian governments spoke at the short hearing.
He said that Syrian authorities say prison guards found Mr Khan dead in his cell on 16 December, the day when he was due to appear before a terrorism court.
'In effect murdered'
Mr Khan, from Streatham, south London, was arrested in Syria 48 hours after arriving in the country to work in a field hospital in a rebel-controlled area in November last year.
He entered without a visa, but he later told his family his work treating civilians had been "classed as an act of terrorism" by authorities.
The UK Foreign Office has said Mr Khan, who died earlier this month, was "in effect murdered".
A funeral service was held at Regent's Park Mosque in London on Thursday.
Mr Khan's brother Shahnawaz described him as a "star" and the "kindest and simplest man I've ever met".
UK Prime Minister David Cameron wrote to the family last week to offer his condolences and say the Syrian regime "should answer for his death".
The family said they were "grateful" for the letter but said the UK government must "follow through" on its promise to get "answers".
"We are very angry at the failures of the British government at securing the release of my brother and now that he is dead we want to see the British government act decisively to respond to the death of a British citizen at the hands of a foreign regime," Mr Khan's brother Afroze said.