Freed Greenpeace Arctic detainees home from Russia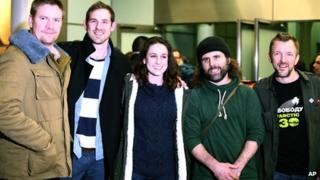 Five UK Greenpeace activists, held in Russia for 100 days, have been welcomed home by relieved family and friends.
Anthony Perrett, Alexandra Harris, Phil Ball, crewman Iain Rogers and videographer Kieron Bryan were granted an amnesty from charges over an Arctic oil drilling protest.
There were emotional family reunions at London's St Pancras rail station.
The five were among 30 people held on hooliganism charges and were released under a new Russian amnesty law.
They flew from St Petersburg to Paris, then travelled on to St Pancras on Eurostar.
'Complete overreaction'
Mr Perrett told reporters it was "good to be back" and he was looking forward to going for a walk in the woods, once back in Wales.
He said prison conditions in Murmansk had been difficult, describing being held in a cell for 23 hours a day and sharing a toilet without a cubicle with three others.
"It has been a strange few months but it is over now and it is good to be back," he said.
"We're very relieved to be home and speaking English, which has been sorely missed."
Asked whether it had been worth it, he said: "Well, look at the media that's here today. We're trying to spread the word to save the Arctic and I think we have done that job fairly well."
Ms Harris said the detention of the activists was "obscene, a complete over-reaction on the part of Russia".
"There was no physical violence towards me but it was torture - we spent two months in a Russian jail cell and 100 days detained for a crime we didn't commit," she added.
She said she thought Russia let them go to avoid global criticism in the run-up to the 2014 Winter Olympics in Sochi.
Once back at home in Devon, she said she was looking forward to spending time with her family and eating home-cooked food.
Mr Bryan, who was embraced by his parents at St Pancras, said he was glad to be back in the UK for the new year.
"The day before [the] amnesty I was still being told that we might be facing two years in prison so it's a heck of a change in nine days."
He said it was no coincidence that the activists had been released in the same week as female punk band Pussy Riot and former Russian tycoon and prominent Kremlin critic Mikhail Khodorkovsky.
"It's a big human rights issue and I hope Sochi coming up will allow the world's media to shine a light a little bit closer," he added.
A sixth Briton, activist Frank Hewetson, has also been released and is travelling to another country.
Another activist, Canadian Alexandre Paul, was also expected to arrive in Montreal later on Friday.
Eight of the so-called Arctic 30 group arrested in September have now left Russia.
They were all held after Russian authorities boarded their ship, the Arctic Sunrise, during an anti-drilling demonstration against an offshore oil rig owned by the Russian company Gazprom.
The departures began on Thursday when Dima Litvinov, a Swedish-American, left Saint Petersburg on a train to Helsinki.
Grim surroundings
Earlier, Mr Perrett told Radio 4's Today programme he had been treated well in Russia despite grim surroundings.
"We weren't treated like prisoners of war. It had very much the razor wire and the barbed wire and the reinforcing bar which made up cages. It had the aesthetic of a concentration camp."
Mr Perrett, 32, of Newport, south Wales, added that he would be happy to return to Russia to carry out further protests, although Greenpeace currently had no plans for further action there," he said.
"I hope we've got the conversation started in Russia about the drilling in the Arctic and raised it with the Russian voters."
Greenpeace said all but the four Russian members of the Arctic 30 are expected to leave the country over the coming days.
Legal concerns
It said all 30 had their cases dropped after the Russian parliament approved an amnesty decree last week, and had "benefited from the amnesty without admitting any guilt".
Ben Ayliffe, from Greenpeace, said everyone involved in trying to free the Arctic 30 felt "a huge sense of relief".
He said the environmental charity had been aware of the risks but were surprised by the Russian authorities' "overreaction", including armed commandoes storming the ship and firing shots.
Asked whether Greenpeace would now change its approach to protesting, he said: "Greenpeace is always thinking about new tactics. I'm sure there will be a lot we can learn from the Arctic 30."
The release and return of the detainees was welcomed by the UK's Minister for Europe, David Lidington.
He said: "I am delighted that the British nationals have been allowed to return to their families and friends. This is a welcome step from the Russian government."
However he said there were still concerns over Russia's legal system.
"The British government continues to call on the Russian authorities to strengthen the rule of law, tackle corruption and promote independence of the judiciary."