More storms ahead as thousands still without power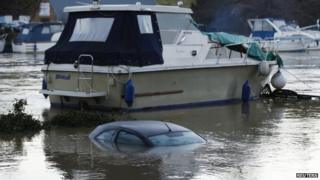 More gales and heavy rain are set to hit the UK as the Environment Agency warns of further significant disruption from floods in southern England.
Many rivers remain swollen after storm damage caused power cuts and travel delays. More than 50 flood warnings are in place for England and Wales.
About 1,200 homes in south-east and south-west England have been flooded.
Some 7,500 properties are still without power. Engineers say some may not be reconnected until the end of the week.
UK Energy Networks said more customers had been connected on Thursday, as 24,000 had been without power first thing.
The Energy Networks Association said problems remained for engineers working in heavily flooded parts of Kent, Sussex and Surrey.
Spokesman Tim Field said: "The nature of the work the engineers are having to do, the severity of the damage caused by the storm, also some very challenging conditions such as flooded roads and roads blocked by debris has made repairs much more difficult."
Meanwhile The Civil Aviation Authority said it expected Gatwick Airport to investigate the circumstances that left thousands of passengers stranded before Christmas.
Flights were delayed and cancelled on Christmas Eve after a power failure in the North Terminal, which the airport says was caused by flooding.
A Gatwick spokeswoman said the weather had been "unprecedented".
On Thursday night, the airport said in a statement that further heavy rain and strong winds were predicted for the area around Gatwick.
"We have additional teams of engineers, electrical staff and volunteers at the airport to minimise the risk of disruption from potential further flooding," it added.
Farming minister George Eustice told BBC News flood defence measures had protected 80,000 homes that would otherwise have been affected and confirmed there was funding available to reimburse local authorities for "one-off costs of floods like these".
He added: "We've had response teams following this daily and around the clock and we'll continue to do so with more rain forecast."
The Met Office is warning of another storm coming in from the Atlantic which is expected to hit the UK on Thursday night into Friday.
A yellow warning - meaning "be aware" - for wind is in place for parts of the UK until 21:00 GMT on Friday.
Gusts of up to 80mph are expected in some coastal areas and on high ground.
Forecaster Helen Roberts said it would get "increasingly windy overnight", with severe gales likely on the west coast.
The new storm "almost certainly will have some impact" on people's plans, she added, warning it would "exacerbate problems" in the South and South East.
BBC Weather said there was the potential for disruption, especially where ground was already saturated and in areas where high winds were combined with heavy rainfall.
It said the area of low pressure expected to bring the next band of weather was not expected to be as deep as Monday's, which was one of the lowest pressures recorded on land in more than 120 years.
Gatwick warning
The Environment Agency is warning of ongoing disruption on the River Medway and the Kentish Stour around Ashford and Canterbury.
Flooding across the Somerset Levels, River Severn, River Thames and River Ouse in Cambridgeshire and rivers across Essex is expected, the agency said.
Travel
Check if this is affecting your journey
The ongoing situation in Hildenborough, Tonbridge, Yalding and Guildford were "a real cause for concern," spokesman Peter Fox added.
"The rain falling anywhere at the moment is going to hit saturated ground and even quite small amounts of rain can cause flooding."
There are no longer any severe flood warnings in place.
Meanwhile,
Surrey Fire and Rescue Service said 11 people had been evacuated from houses on Boxing Day because of flooding in the Wey Meadow area of Weybridge in Surrey.
Judy Davis, from Broad Oak, near Rye in East Sussex, has been without power since Monday, and as her house is entirely dependent on electricity she has "no shower, no hot water, no heat, no light, no television, no radio, no internet access".
Describing her Christmas dinner she said: "We made some toast on the wood burner, and we've got a little camping ring for tea and coffee so we had some scrambled egg, and we had a glass of wine with it and some chocolate cake for pudding. And very nice it was too."