UK soldier killed in Afghanistan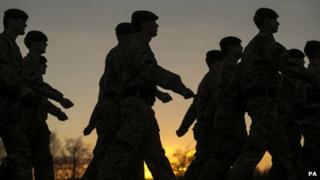 A UK soldier from the Royal Engineers has been killed in Afghanistan, the Ministry of Defence has said.
He died on Monday after coming under enemy fire while on operations east of Kabul.
His next of kin have been told but requested "the customary period of grace" before further details are released, an MoD spokesman added.
The serviceman is the 447th British soldier killed since the war began in 2001.
His death, the ninth this year, comes as the UK withdraws from the country and after Prime Minister David Cameron made a pre-Christmas visit to Helmand last week.
Touring Camp Bastion he announced the British mission in Afghanistan had been "accomplished" and told troops they could be "very proud of what they have done".
Outside of the camp there are now just four British bases in operation and those are due to close next year.
The number of military personnel in Afghanistan has been reduced from 9,000 to around 5,200 in 2013.