Bishop of Warrington's warning on universal credit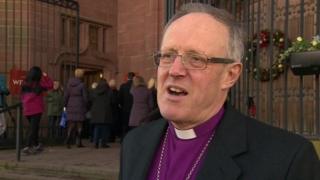 A bishop has warned the UK risks "losing the safety net" the benefit system "should provide" as the new universal credit is brought in.
The Bishop of Warrington, the Right Reverend Richard Blackburn, said the changes - along with austerity cuts - had hit the "most vulnerable" hardest.
He has circulated a statement to clergy in the Diocese of Liverpool, of which he is currently in charge.
The government says the scheme makes work pay.
Universal credit - one of the government's flagship policies - will merge six working-age benefits into one and make various changes to the way money is paid.
'Bearing the brunt'
"It's clear from conversations with churches in Warrington and Wigan, where universal credit is being piloted, that there are grave concerns as to whether we are losing the safety net that the benefit system should provide," the bishop said.
He said the changes were "long overdue" but there were inevitably "casualties".
The bishop, who is in charge of the Diocese of Liverpool until a new Bishop of Liverpool is appointed, said it was "interesting to see where the casualties fall" as this was a "strong indication of where a government's priorities are".
And he said it was worrying that "governments seem not to care so much" about the fate of the poorest people in society and warned that "those with little or no voice are bearing the brunt".
The bishop said the growing number of food banks, which he said were opening "almost at the rate of three a week", suggested there was a "real difficulty about how people are coping at the moment".
And the bishop said the increased "vulnerability" of poorer people and made it easier for payday loan companies to "further undermine" their lives.
"We daily hear the stories of those forced into desperate choices between food, rent and clothing," he said.
"We worry about... the payday loan culture which seems to push more people into a cycle of debt."
The government has said its benefit reforms put work "at the centre of our welfare system".
Work and Pensions Secretary Iain Duncan Smith has said the changes will "cut through the complexity" of the existing system and ensure people will be better off "for each hour they work".