Abbas Khan death: British doctor's body arrives in UK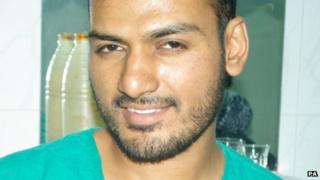 The body of a British surgeon who died in a Syrian prison last week has arrived back in the UK and will undergo a post-mortem examination.
Surgeon Abbas Khan, 32, was found dead in his cell just days before the Syrian government had said he would be freed.
The UK Foreign Office has said he was "in effect murdered" - but the Syrian authorities claim he took his own life.
Mr Khan, from Streatham, south London, was arrested in Syria 48 hours after arriving in the country last November.
His body was transferred from Syria to neighbouring Lebanon on Saturday where his mother Fatima and brother Afroze received it.
The plane carrying his body landed at Heathrow earlier and it is being transferred to the Coroner's Court in Walthamstow, east London, where tests will be carried out.
The family's solicitor, Nabeel Sheikh, told the BBC Mr Khan's family hoped the tests would be completed later or on Monday.
He said the Home Office was organising the process but Scotland Yard was "actively involved" because Mr Khan's death was regarded as suspicious.
'Clear case of murder'
Mr Sheikh said the family's priority was to lay the body to rest so they could have a "modicum of comfort that there's been some closure".
He said Mr Khan's death was "extremely suspicious" and added: "It's inconceivable that somebody who's about to be released after a period of 13 months being incarcerated in Syria is going to commit suicide."
He said "everyone's view" was that Mr Khan was murdered.
Michael Mansfield QC said he had been advising the Khan family and had been asked to represent the family should the coroner decide there would be an inquest. He said Mr Khan's death appeared to be "a clear case of murder".
A Metropolitan Police spokesman said its Counter Terrorism Command was providing family liaison support and would "seek to assist the coroner when appropriate".
Mr Khan went to Syria last year to work in a field hospital in a rebel-controlled area. The doctor, who worked at the Royal National Orthopaedic Hospital in Stanmore, north-west London, entered Syria without a visa.
The Syrian government said Mr Khan killed himself in his cell but his family believe he was murdered by Syrian intelligence, just days before he was due to be freed.
Mrs Khan said: "The national security intelligence of Syria, they killed him. They're murderers."
She told the BBC she was surprised the Syrian regime "cannot differentiate between a humanitarian aid worker and a terrorist".
"It was his profession to give life, not to take life. He can't kill an ant, even," she said.
Her son had only been treating women and children, she added.
Afroze said the five days they had to wait for the body to be transferred from Syria had added "to the devastation of the family".
Mrs Khan had travelled to Damascus to track her son down and contacted the British and Syrian governments, as well as the Russian and Syrian embassies in an effort to have him released.
Mr Khan was one of seven brothers and sisters and is survived by his wife Hanna, his seven-year-old son Abdullah and daughter Ruqquaya, aged six.
Speaking at Heathrow Airport, Mr Khan's sister Sara said the British government must co-operate with her family.
"This is the least they can do," she said.
"They were supposed to be helping us with the repatriation but I think that was left to the undertakers in Beirut.
"We have received letters from the prime minister who said that he's now going to help us get answers but nothing's actually been said as to how they expect to do this and when."