Apollo Theatre collapse fire crews set to be axed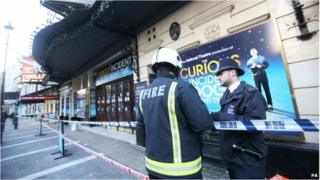 Three fire stations which sent crews to attend the Apollo Theatre after part of the ceiling collapsed are set to be axed in the new year.
Crews from Knightsbridge, Southwark and Westminster stations, set for closure, attended the Shaftesbury Avenue incident which left 76 people injured.
The Fire Brigades Union said: "If the cuts go ahead, the mayor will end up with blood on his hands."
Previously, London mayor Boris Johnson said the service must be modernised.
London Fire Brigade said it was confident it could react to any emergency situation with the resources in place after the cuts.
Fire Brigades Union London secretary Paul Embery said three of the eight fire stations that sent crews to the incident were set to close on 9 January.
He added: "The Apollo Theatre collapse demonstrates how dependent the safety of Londoners is on the stations that Boris Johnson intends to close.
"These cuts are reckless, wrong and will jeopardise the safety of millions of Londoners. It will only be a matter of time before someone dies as a result of a fire engine failing to reach them in time."
On Friday, seven London councils lost their High Court battle over Mr Johnson's proposal to shut 10 fire stations in the capital.
More than 500 firefighters' jobs will be lost under the plans, which have been approved by the London Fire and Emergency Planning Authority (LFEPA).
'Isolated incident'
Tower Hamlets, Camden, Greenwich, Hackney, Islington, Lewisham and Southwark councils were appealing against the cuts, which are expected to save £28.8m.
The Apollo Theatre was packed with 720 people when the ceiling partially collapsed on Thursday evening. Seven of those hurt were said to have serious injuries.
Westminster City Council said the building was safe for its investigators to go in to but it would have to conclude its investigation before it could say whether it was safe to reopen.
Nicola Aiken, the council's cabinet member for community protection, said the theatre's health and safety checks were "up to date".
"Each historic theatre is unique and we have no reason to believe this is other than an isolated incident," she said.
"We have confirmed with the Society of London Theatre that all theatres' safety checks are up to date; however, as a precaution, all historic theatres are carrying out further safety checks."
A spokesman for Mr Johnson said: ''Thursday night's incident at the Apollo Theatre proved that London's firefighters are the best in the world with incomparable response times.
"However, we need to continue to modernise the service, so that it is fully equipped for the challenges of 21st Century firefighting.
"The recent court ruling recognised the robustness of LFEPA's plans which will deliver a balanced budget while keeping London safe."