Hart in Hampshire revealed as UK's most desirable place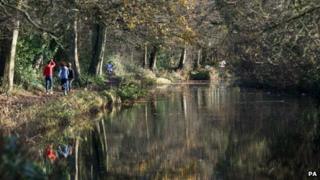 The most desirable place to live in the UK has been named as Hart in Hampshire for the third year in a row.
The district's residents were found to be the healthiest and live the longest in the UK, while employment was well above the national average.
Uttlesford in Essex was in second place followed by South Northamptonshire which jumped 27 places to third.
The annual Halifax quality of life survey looked at factors including life expectancy, crime rates and weather.
Good health
Hart, centred on the town of Fleet, is in the north-east corner of Hampshire.
It has been described as a "step back in time" with 84 square miles of wooded landscape and a large freshwater lake.
More than 97% of residents of Hart were found to be in good or fairly good health.
Employment stood at 80% compared with the national average of 71%, while average earnings at £843 a week were more than one-third higher than the national figure.
However, the average house price was seven times the annual local wage - the national figure is 5.8 times.
Burglary rate
Uttlesford, which was in sixth place last year, had an 84% employment rate and average earnings of £819 a week.
Among the big risers from last year were Rushcliffe in Nottingham (22nd to seventh) and Winchester (34th to ninth).
The highest weekly average earnings were in Kensington and Chelsea in London at £1,323. The Orkney Islands had the lowest burglary rate at one per 10,000 people.
The south-east of England dominated the list, claiming almost half the places in the top 50.
But this included just one area in London - the City of London in 38th place.
Nowhere in Wales or Northern Ireland got a mention, and Scotland only just made it with the Orkney Islands in 50th place.
This year's survey took into account new Office for National Statistics research into personal wellbeing for the first time.