Apollo Theatre: West End audience shaken but unbowed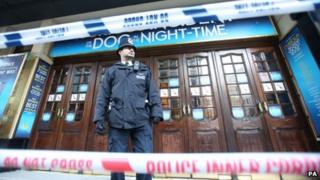 After the ceiling collapsed at London's Apollo Theatre, leaving dozens injured, will the incident affect the reputation of the West End?
As sun filters into the streets around the Apollo and commuters scurry along outside, the events of Thursday evening seem almost unbelievable.
But for some outside the Grade II-listed building in Shaftesbury Avenue, where part of the ceiling collapsed leaving 76 people injured, they were all too real.
Johnny Cardozo, 17, was in the balcony for The Curious Incident Of The Dog In The Night-Time when he realised something was wrong.
'Dramatic scene'
"At the time there was quite a noisy, dramatic scene going on - a flashback of the main character in which his mother is swimming and he's worried about her being eaten by a shark," he explains.
"There was a bit of a disturbance on the right-hand side of the balcony. People were getting out of their seats but I just thought it was something to do with the play - a staged occurrence to make the audience panic and understand how he was feeling.
"Suddenly somebody shouted 'Everybody get out now' and a couple of seconds later the ceiling came down."
He feared the whole building would collapse as he and his family tried to escape. "My hands were shaking and my heart was beating very fast.
"It's the kind of situation you might read about in a newspaper or on the internet but I never imagined it could happen to me. The whole thing is very surreal."
Despite his experience, the student, who is visiting from Shaftesbury in Dorset, says he will return to the West End.
"It's a freak occurrence and I really wouldn't want people to be afraid of coming back to the theatre. I love London theatres and I just feel this needn't be bad news for all of them."
Opposite the theatre, at souvenir shop Cool Britannia, sales assistant Ayesha Siddiqua, 23, has a different view.
"I really feel it's very scary because all of the theatres are very old," she says.
"They will definitely come back but it might take time."
'Thank God'
South Africans Rika Turner, 37, and Lynette Prinsloo, 36, wandering past the Apollo, are shocked when they learn what happened.
"We went to see the Lion King last night and when we came out to get a bite to eat we saw the ambulances and police and wondered what had gone on," says Ms Turner.
"I'm very glad I wasn't at that show - but no, it doesn't put me off going to the theatre. We just live life to the full and if it happens to us, it happens to us," she adds.
Around the corner at The Ticket Desk, boss Chris Moss says he's unsure if business will be affected.
"It's hard to say, I mean it might frighten people," he says, breaking off from his breakfast of jam on toast.
"Obviously we hope it will all be back to normal soon and thank god it wasn't a terrorist incident, or something like that."
Mr Moss has worked in the business for 20 years and says he has never heard of anything like it.
"I don't think it will damage the West End's reputation because it was a freak accident and people understand that these things can happen anywhere," he adds.
It is, in his opinion, even less likely to affect London's theatre-goers.
"Where the Americans would stop [going to the theatre], the British have that sort of," he pauses to think of the word, "resilience", he adds earnestly.
'Open for business'
Another ticket agent, who didn't want to be named, says she wouldn't blame people for being afraid to go because it was an "absolutely horrible" incident - and she urged fresh safety checks at all London theatres.
Investigations are well under way but the Society of London Theatre says all major theatre owners have confirmed their safety records are up to date.
The society points out that more than 32,000 visit the city's theatres each night, and incidents like this one are "extremely rare".
"All other London theatres remain open for business today and in the coming weeks," says the society.
In busy Leicester Square, theatre ticket adviser Chris Harrison has only one answer when asked if theatres will be affected.
"Naaaaaah," says the Londoner, with a defiant grin, "It ain't going to stop me."
"There are 37 theatres in London and only one is 'injured'," he adds, and besides, he says, most people book tickets in advance and are unlikely to cancel now.
"About 5-10% might not come now but I would say the vast majority of people know theatres are safe," he says.
He thinks the ceiling collapse was such a surprising and unique occurrence it will go down in London theatre lore.
Outside the Leicester Square theatre ticket booth, only a handful of people are queuing.
"It wouldn't put me off," says Ben Yiu, 24, from Hong Kong, who hopes to see Les Miserables while visiting the English capital. "It was just an accident and accidents happen."
Anna Banki, 51, who is visiting from Clitheroe in Lancashire, says The Curious Incident was high on her list but she will try to see Let the Right One In instead.
She and her family nod in agreement when asked if they would return.
"The West End is fabulous," says Anna Banki.