Apollo Theatre collapse: 'Fortunate more people not hurt'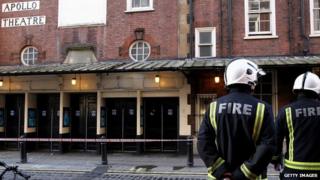 It is lucky more people were not injured when part of a ceiling collapsed at a packed theatre, London Fire Brigade has said.
Seventy-six people were hurt when ornate plasterwork at the Apollo fell during a production of The Curious Incident Of The Dog In The Night-Time.
Reports suggested water dripped through ceiling cracks before it fell.
The Met said there was "no criminal act involved", while Westminster City Council is investigating what happened.
'Horrific'
The local authority confirmed the 112-year-old theatre's health and safety checks were up to date.
The last formal inspection of the ceiling took place in September, theatre owners Nimax said.
Nickie Aiken, cabinet member for community protection with Westminster City Council, said: "As a precaution, all historic theatres are carrying out further safety checks."
She said she could not speculate on how long the investigation would take.
One line of inquiry will be the effect of adverse weather on the Grade II-listed building on Shaftesbury Avenue.
There was a thunderstorm and a heavy rain burst in London on Thursday evening with a high number of lightning strikes across the capital.
Seven of those hurt during the collapse were said to have serious injuries. Two people remain in hospital.
Nick Harding from London Fire Brigade said: "I think it's fortunate that more people weren't injured by this.
"I've never seen anything like this in my 19 years in the fire service.
"It's a testament to all the emergency services, including the fire brigade, who were very quickly able to get people out of the building."
The collapse happened at 20:15 GMT on Thursday when the theatre was almost full, with 720 people watching the performance.
Chris Edwards and his son and daughter-in-law were among those injured.
Mr Edwards said: "I first heard cracking, then looked up to see a big part of the roof coming down. It was horrific.
"Larger pieces hit my younger son and he's still in hospital with a broken collar bone and suspected damage to his spine.
"I tried to cover my daughter-in-law, who is pregnant, to protect her but some of the debris fell on her back. Thankfully she and the baby are safe.
"I have cuts and bruises myself, but we believe we have been very lucky. But I am really angry about this too. It was so lucky that someone wasn't killed."
Dermot Kavanagh was sitting in the balcony.
"The whole row stood up and there were suppressed murmurs and shrieks and shortly after that there was this large ornate ceiling rose with a chandelier in the middle just came down and a huge brownish grey cloud of dust came up from the stalls," he said.
Three London buses were commandeered to take patients to hospital.
Micky Gilroy, from the Arriva London bus company, said: "For most drivers, something like this is a once in a lifetime situation.
"When they come into work today, they will get commendations and be thanked for last night. They have done a brilliant job."
One of them, Ibrahim Shah, said: "I was very proud that I was able to help take the injured to hospital."
London Mayor Boris Johnson said the response of the emergency services had been "exemplary" and that the West End remained "open for business".
'Swift and effective'
Mark Haddon, author of the book on which the play is based, tweeted: "It's been horrifying sitting here watching what has been happening at the Apollo this evening. I'm hugely relieved that no-one has died."
Daniel Casey, who plays Roger Shears, said: "All our thoughts and sympathies are with those members of our audience who were affected or injured last night.
"The emergency services and theatre staff were wonderful."
The emergency response included 25 ambulance crews, an air ambulance rapid response team, police officers and eight fire engines with more than 50 firefighters.
Guy's and St Thomas' NHS Trust said 34 adults and five children were treated in accident and emergency at St Thomas' Hospital.
The majority had cuts and bruises but a small number had fractures. The three most seriously hurt victims had injuries to their neck and back, or head.
Ch Supt Paul Rickett praised the "swift and effective response" of the emergency services and thanked theatre-goers for their support. However, he said it could be "some days" before audience members would be able to retrieve belongings they had been forced to leave in the theatre.
'Very, very rare'
Owners Nimax said it would be "irresponsible to speculate" on the cause before the outcome of the council's investigation.
"There is a tremendous amount of work to be done after such an awful event," a spokesman said, adding that the company resumed control of the theatre at 16:30 GMT.
"Our thoughts remain with all those who were injured and affected," he went on.
Mhora Samuel, from The Theatres Trust, said: "This was a very, very rare thing to have happened.
"The public should be completely reassured that all the theatres in the West End are safe."
The Society of London Theatre (SOLT) said all the major theatre owners had confirmed their safety inspections and certificates were up to date and all other London theatres remained open for business.
Performances at the Apollo have been cancelled until 4 January and customers should contact their point of purchase to arrange exchanges or refunds, the theatre said.
'Significant renovation'
Mark Field, Conservative MP for Cities of London and Westminster, said: "There's been a significant programme of renovation in the last 10 years, but given that we've got 40 or 50 theatres in the whole West End clearly it won't have applied necessarily to every one of them."
The Curious Incident Of The Dog In The Night-Time has been running in London since August 2012.
The show started at the National Theatre, before transferring to the Apollo in March this year.
Nimax Theatres also runs the Garrick, Duchess and Vaudeville theatres.
London theatres in numbers
In 2012:
45

theatres open*

18,500

performances

14 million

attendances

£530m

gross box office revenue
PA