Prescription drugs: Call to tackle addiction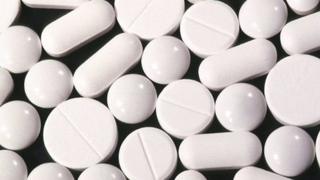 GPs must start collecting anonymous data on patients who could be addicted to prescription drugs, the Commons Home Affairs Committee of MPs has said.
That would be an "important first step" in tackling the problem of up to 1.5 million possible addicts, they say.
The MPs also want to make sure more is done to stop patients visiting several doctors to feed their addiction.
Doctors' leaders said identifying people addicted to prescription drugs was "not straightforward".
Some types of painkillers and sleeping pills are among prescription drugs which can be addictive.
'Still unquantified'
The MPs said more people may be addicted to prescription drugs than to illegal drugs.
They said the abuse of such drugs was taking place "in the shadows" and much better data was required.
Committee chairman Keith Vaz said the extent of the problem was "still unquantified".
"GPs are not collating data about how many people they suspect are abusing the system," he told BBC One's Breakfast programme.
"If they start doing that and then report it amongst colleagues, that's a very important first step in trying to prevent the abuse of prescription drugs."
The committee said the NHS must do more to tackle "doctor-shopping" where an addict might visit multiple surgeries, perhaps as a temporary patient, to get more prescription drugs.
And it said authorities should be more prepared to prosecute - particularly in those cases where health professionals were supplying prescription drugs when there was no medical need.
Former prescription drug addict Barry Haslam, chairman of support group Oldham Tranx, said he had "a complete breakdown" at the age of 32 and was "put on anti-depressants and tranquillisers for 10 years".
According to the Royal College of Psychiatrists, anti-depressants are not addictive drugs like tranquillisers, alcohol or nicotine, but some users experience withdrawal symptoms.
'Devastating condition'
Mr Haslam told BBC Radio 4's Today programme that, because of "the quantity I was being prescribed, I've got a complete 10-year memory gap".
"I'm a quiet, mild accountant and they made me extremely violent - they made me into a Jekyll and Hyde character, into a real monster, which wasn't me," he added.
He said GPs, who knew how addictive some tranquillisers were, contravened guidelines by prescribing them for long periods of time.
But Richard Vautrey, deputy chairman of the British Medical Association's (BMA) GP committee, told Today "all medical professionals are very aware of the implications of the medication that they prescribe and the consequences".
"We need to be very careful about using terms like addicted when this is a complex issue," he said.
"There are a large number of people who are rightly taking medication that are controlling their symptoms, controlling their chronic pain, controlling their mental health problems.
"They need to be taking their medication and they shouldn't be stopping their medication."
'Small group'
Mr Vautrey said it would be difficult for those people "to stop without some signs of withdrawal" and "potentially they could be regarded as being addicted".
"That's very, very different from the very small group of patients that the committee have identified who potentially go doctor-shopping from practice to practice trying to get illicit drugs."
He said a system should be put in place "to identify that very small group of people".
The GP committee's chairman, Dr Chaand Nagpaul, meanwhile, said GPs already "play a key role in treating patients in the community suffering from the impact of drug addiction".
He added: "The identification of individuals addicted to prescription drugs is not straightforward and whilst we should do all we can to support their withdrawal from such drugs, we also need to ensure that patients are confident that their sensitive personal data will remain secure."