Charles and Camilla reveal their 2013 Christmas card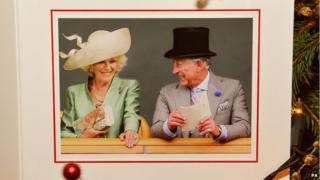 The Prince of Wales and Duchess of Cornwall have chosen a picture of themselves sharing a joke at Royal Ascot for their 2013 Christmas card.
The image, taken in June, shows them standing against a balcony rail in what is thought to be the royal box.
The cover of each card features the Prince Charles's feathers emblem and the duchess's cipher, with a festive message printed inside.
This year's official card will be sent to friends, supporters and volunteers.
In the photograph - taken by Stephen Lock - the duchess is wearing a peppermint green silk jacket and a pansy print chiffon dress.
Prince Charles, who is pictured holding a racing programme, wears a top hat and morning coat.
Inside are the words: "Wishing you a very Happy Christmas and New Year."
Previous Christmas cards have depicted the couple getting married in 2005, laughing and holding umbrellas on a ferry in Cornwall in 2007, and skiing on the Queen's Balmoral estate in Aberdeenshire in 2010.