Hacking trial: Stuart Kuttner had 'no recollection' of Milly Dowler email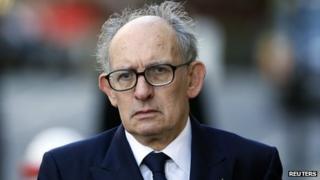 The News of the World's ex-managing editor said he had "no recollection" of an email he sent to police that appears to discuss the hacked phone of murdered schoolgirl Milly Dowler, a court hears.
Stuart Kuttner's 2002 email referred to messages apparently left on her phone including one from a job agency.
Asked about the email in a 2011 police interview Mr Kuttner, 73, said it would be unhelpful to speculate "on a letter I do not recall", the jury heard.
He denies conspiracy to hack phones.
The email, dated Saturday 20 April 2002, was sent to Surrey Police while 13-year-old Milly Dowler was still missing.
It referred to a call made to an officer a week earlier, passing on "information about Amanda Dowler's mobile phone".
As well as mentioning the recruitment agency's call, the email adds: "In addition, we advised of other messages left on this number and we offered a copy of a tape recording of the messages and other assistance."
'An illegal activity'
On Wednesday, transcripts of a number of subsequent police interviews with Mr Kuttner were read to the jury at the Old Bailey.
In a September 2011 police interview, a detective told Mr Kuttner: "In that letter it clearly stipulates that News of the World, ie yourself and others, potentially have knowledge of messages being left on Milly Dowler's phone and the content of such messages."
Mr Kuttner - who was managing editor at the News of the World for 22 years - replied: "I am not denying - although I have no recollection of the letter - I am not denying its contents."
The detective then told Mr Kuttner: "I don't want you to speculate.
"I'm asking you to read through a letter you have written and I want you to tell me whether or not you agree with my submission that this is you saying that you know that Milly Dowler's phone has been hacked."
Mr Kuttner replied that, as he did not remember the latter, that would not be helpful.
In a further extract read to the court Mr Kuttner told police: "If, and I've no reason to doubt this at all, if Milly Dowler's messages were intercepted - and I'm no expert in the law - I quite accept that that was an illegal activity."
He added it "is clear from the letter that the paper has information".
The court also heard that private investigator Glenn Mulcaire, who has pleaded guilty to phone-hacking, was paid under various guises by the News of the World.
The jury was told that Mr Mulcaire was paid under the names Jane Street, John Jenkins, Alexander, Paul Williams and Matey.
But Mr Kuttner said that there was "not a culture" of using false names to make payments at the paper.
In the interview he also said that Mr Mulcaire was on a contract paying "over £100,000" a year because it was the most cost-effective way to buy his services.
'Intolerable' pressure
Reading out a prepared statement in a fifth interview with police in May 2012, while under arrest, Mr Kuttner told detectives: "Now at the age of 72, three years into my retirement and coping with heart attacks and the effects of a brain stem stroke - including permanent distorted eyesight - I have been plunged into a nightmare."
He added he had tried to help with the police inquiry but "I now find the pressure of this intensive police activity to be intolerable".
Mr Kuttner later sent a note to police about the April 2002 email, which said: "For completeness and clarity, I wish to add to what I said on the last occasion regarding that document.
"I have no memory of it at all.
"I am unable to recall the circumstances or who provided me with the information contained in that communication and I do not believe it is helpful or right to speculate."
In July 2011 the News of the World was closed by News International, its parent company, after it emerged the voicemails of people including murdered teenager Milly Dowler had been accessed - known as hacking.
Mr Kuttner, 73, of Woodford Green, Essex, and the six other defendants deny conspiracy to hack phones.
Among other allegations that some of the other six defendants also face are charges relating to illegal payments to public officials, misconduct in public office, and attempts to hide potential evidence - which they also deny.
The trial continues.