Hunger strike asylum seeker Isa Muazu deported to Nigeria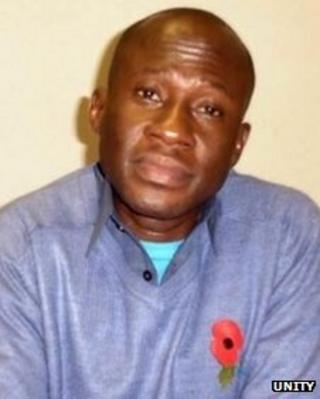 An asylum seeker with severe mental illness who starved himself for three months in protest against deportation has been returned to Nigeria.
A flight carrying Isa Muazu left the UK on Tuesday and has arrived in Lagos.
Mr Muazu, 45, argued he could be killed by Islamist militants in Nigeria, but the Court of Appeal and an immigration tribunal refused to block his removal.
Immigration minister Mark Harper said Mr Muazu had "no right" to be in the UK and had been "successfully removed".
Mr Muazu's lawyer said his client was being taken to hospital following his arrival in Nigeria.
Mr Harper said Mr Muazu had overstayed his visa by more than five years before claiming asylum, and he was "not found to have a genuine need of protection".
'Disturbed beliefs'
"Halting the removal of Mr Muazu because of his protest would undermine our asylum and immigration system - and provide a dangerous incentive for others to follow suit," he said.
He said Mr Muazu had been offered "appropriate" medical assistance and the UK would cover the cost of an assessment in Nigeria.
Mr Muazu was held in the medical wing at Harmondsworth detention centre in west London.
A psychiatrist found his "disturbed beliefs" formed part of a severe mental illness which led him to refuse food.
A previous attempt to deport him failed when a plane carrying him was refused permission to land in Nigeria.