Foreign Office criticised over UK doctor's Syria death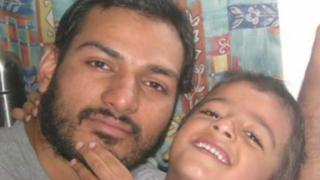 The Foreign Office (FCO) has been accused of not doing enough to help secure the release of UK doctor Abbas Khan, before he died in a Syrian jail.
Mr Khan's brother said the FCO treated his case as if he was a "wayward traveller in Dubai being caught drunk".
UK Foreign Office Minister Hugh Robertson said Mr Khan was "in effect murdered" by the Syrian authorities.
Mr Khan, an orthopaedic surgeon from south London, was arrested in northern Syria 48 hours after he arrived.
The doctor died just days before his expected release from jail, after his arrest in Aleppo last year.
Mr Robertson said the government was seeking "urgent clarification" about what had happened to Mr Khan, originally from Streatham, but his death was "at best extremely suspicious".
'Utter despair'
Shahnawaz Khan said: "It is interesting for the Foreign Office to take that line now. We have been telling them for 13 months that this is a very real possibility.
"And they have treated his case like he's been some wayward traveller in Dubai being caught drunk, and contravened some trivial law in Syria.
"The fact that this individual was out there helping the humanitarian effort and has been held for 13 months against his will without a charge or a trial or access to a lawyer, and they have offered very little assistance, placated us throughout."
He said his brother had written to the family saying he was looking forward to coming home and spending Christmas with them.
Shahnawaz Khan said: "We had politicians due to go over to Damascus to go and get him. He knew about that. He was in high spirits. We thought he was coming home this Friday.
"Our life's been turned upside down. We are a very close knit family. We have been through this ordeal for 13 months now, and in utter despair really.
"But we are also proud that he died doing something he believed in and helping people who were in desperate need."
Jail release
Syria's Deputy Foreign Minister Faisal Mekdad said Mr Khan committed suicide using his pyjamas to hang himself, which has been dismissed by the family.
He said the results of a post-mortem examination proved this and Mr Khan's body would be released to his family so they could conduct their own inquiry.
The doctor's relatives had been told he would be freed on Friday following an order from Syrian President Bashar al-Assad.
Respect MP George Galloway, who has liaised with the Syrian authorities and was due to collect Mr Khan on Friday, said the death was "murder most foul" and it was "inconceivable that he committed suicide".
The MP for Bradford West said he believed somebody within the regime had killed Mr Khan to defy President Assad's decision to release him.
Shahnawaz Khan rejected the Syrian government's claim of suicide, saying it was a "complete fiction" and "utter nonsense and I would ardently deny anything of that scenario".
Mr Khan, who worked at the Royal National Orthopaedic Hospital in Stanmore, north-west London, was detained 48 hours after entering Syria last November.
He had been moved by the plight of refugees and worked in refugee camps in Turkey, his family said. He had not planned to go to Syria but travelled there to treat badly injured civilians.
Mr Khan was one of seven brothers and sisters and is survived by his wife Hanna, his seven-year-old son Abdullah and daughter Ruqquaya, aged six.