Eve's Law: Domestic violence victims' addresses 'may be kept secret'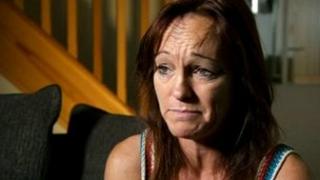 The government will consider a domestic violence campaigner's proposal for new laws to allow victims to keep their safe house addresses secret in court.
Eve Thomas, who had been beaten by her ex-husband, risked prison for refusing to reveal her hideaway address in August.
She wants a law change to allow such addresses to be kept secret in unrelated court proceedings.
Justice Minister Damian Green said he would "happily consider" her proposals.
Ms Thomas was subject to more than 20 years of abuse from her husband before she left him.
During a civil case in the summer, when Bolton County Court ruled that she owed money to a former friend and asked for her address, she withheld it.
The matter was finally settled at the Manchester Civil Justice Centre, where a friend paid the £1,000 debt.
Ms Thomas told the BBC in October that she had feared that revealing her new location would have put her at risk of attack.
She told BBC Radio 5 live's Breakfast: "I felt totally victimised again... If a victim can substantiate that they are in serious fear for their lives and safety, then the judges and courts need to take this on board."
'Horrendous crime'
Shadow justice minister Dan Jarvis urged the government to support her campaign.
Speaking during justice questions in the House of Commons, Mr Jarvis told Mr Green: "Victims of domestic abuse are being placed at risk when forced to give their safe address in open court in unrelated proceedings.
"This not only places the individual at risk from the abuser but it also deters the thousands of victims who suffer from domestic violence from reporting this horrendous crime.
"So can you tell the House if you are supportive of 'Eve's Law', which seeks to address this anomaly, and if you will work with the campaign to ensure its implementation in law?"
Mr Green said that Mr Jarvis made "a reasonable point".
He added: "It's obviously a case in each individual case for the judge and it's not for people at this Despatch Box to decide what judges do in each individual case.
"But obviously there are a range of steps we are already taking to protect people who may be victims of domestic violence and I am always happy to look at others."