High Court judge disciplined over marriage comments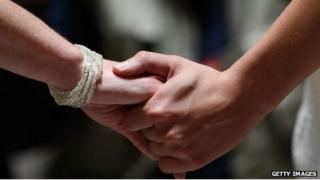 A High Court judge has been disciplined for voicing his views on marriage through national newspapers.
Sir Paul Coleridge received a formal warning from the Judicial Conduct and Investigations Office (JCIO) over articles in the Times and Telegraph.
In the newspapers he said marriage brought "stability", and called gay marriage a "minority issue" which had taken up too much government time.
The JCIO said his actions were "incompatible" with his judicial role.
Sir Paul recently announced he was stepping down from being a judge early because of opposition to his personal views.
'Judicial misconduct'
Last year he told the Times the government had expended too much effort on the issue of gay marriage.
"So much energy and time has been put into this debate for 0.1% of the population, when we have a crisis of family breakdown," he said.
In his article for the Telegraph, he wrote that marriage "brings clarity and removes ambiguity" from relationships.
"'Stability' is the name of the game and comparatively speaking that means marriage," he added.
In a statement, the JCIO said it had investigated Sir Paul's conduct in relation to the two articles.
It said his decisions to give the interview and write the article were "incompatible with his judicial responsibilities" and therefore amounted to "judicial misconduct".
As recently as this month, Sir Paul told the Telegraph couples should not have children if their relationship is not stable enough to merit getting married.
Sir Paul is the founder and chairman of the Marriage Foundation, a think tank which aims to be a "national champion for marriage".