Isa Muazu loses asylum legal battle after starving self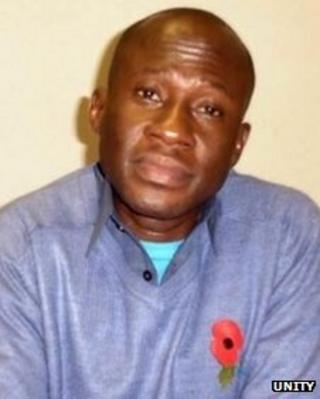 A Nigerian asylum seeker who starved himself for three months has lost his legal bid to stay in the UK.
Isa Muazu, 45, who is being held at Harmondsworth detention centre, had argued that he could be killed by Islamist militants if he was sent back.
But an immigration tribunal ruled that he would be protected by the police, army and legal system in Nigeria.
The Home Office has arranged to return him on Tuesday night. The last flight he was on had to return to Britain.
Mr Muazu is being held in the medical wing at Harmondsworth, in west London.
A psychiatrist found his "disturbed beliefs" formed part of a severe mental illness which led him to refuse food.
Legal documents submitted to the Upper Immigration Tribunal in central London said he had a severe psychiatric disorder which he "was not fabricating".
Consultant psychiatrist Dr David Bell said Mr Muazu's "self-starvation" arose from "disturbed beliefs" that formed part of his mental disorder.
The doctor, who was instructed by the Nigerian's lawyers, said it should not be described as a "hunger strike".
According to the legal papers, another expert said Mr Muazu's mental illness would be perceived as "witchcraft...with the threat of violence" in parts of Nigeria.
Flight sent back
But the tribunal said he would be able to access Nigeria's medical services, and pointed out that Home Secretary Theresa May had offered to provide facilities to take him to hospital and meet the "reasonable costs" of health care.
Mr Muazu's lawyers told the tribunal it would ask the Court of Appeal to review the decision - an application is expected to be made later.
They launched a fresh appeal to the tribunal last week after a specially-chartered flight with Mr Muazu on board was refused landing rights in Nigeria and sent back to the UK.
At the time of the failed deportation a member of the House of Lords said a doctor had judged him "too ill to fly".
Mr Muazu began refusing food in September, arguing his asylum claim "was not treated fairly".