Amanda Knox email: 'I didn't kill' Meredith Kercher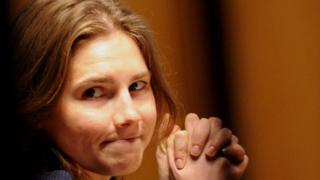 Amanda Knox, the American accused of the 2007 murder of UK student Meredith Kercher, has pleaded her innocence in an email to an Italian court.
Ms Knox, 26, insisted she "didn't kill Meredith" but was afraid to appear in person for fear of wrongful conviction.
She and her Italian then-boyfriend Raffaele Sollecito were convicted in 2009, but acquitted on appeal in 2011. In March, Italy's highest court overturned both their acquittals.
The judge called the email unusual.
The case is being heard in the central Italian city of Florence. Both Ms Knox and Mr Sollecito, 29, spent four years in prison before their acquittal, and have always insisted they are innocent.
Ms Knox, 26, has since returned to the US and was not required to be present for the hearing.
'I am afraid'
In a five-page email written in Italian and read out to the court, Ms Knox wrote: "I didn't kill. I didn't rape. I didn't rob. I didn't plot. I didn't instigate. I didn't kill Meredith.
"I am not present in court because I am afraid. I am afraid that the vehemence of the prosecution will make an impression on you, that their smoke will get in your eyes and blind you," she said.
Judge Alessandro Nencini said the email was not normal procedure in Italy, adding: "Who wants to speak at a trial, comes to the trial."
Miss Kercher, from Coulsdon, south London, was found dead in a flat she shared in Perugia with Ms Knox, a fellow exchange student. She was 21.
Prosecutors had said Miss Kercher, who had been repeatedly stabbed, died in a sex game that went wrong.
Another man, Rudy Guede from Ivory Coast, was convicted in a separate trial and sentenced to 16 years for the killing.